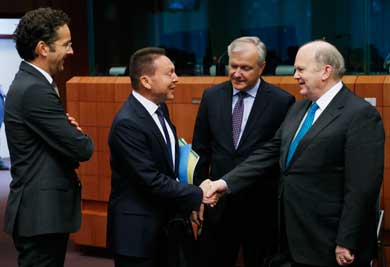 The Eurogroup approved on Monday the release of Greece's two next bailout installments, totaling 7.5 billion euros, but was told that it would have to complete certain structural reforms before the second tranche is released in June.
Eurozone finance ministers agreed that Greece should receive 4.2 billion euros later this week after the Euro Working Group and the directors of the European Financial Stability Facility (EFSF) meet. The second sub-tranche of 3.3 billion euros will be disbursed once Greece has met the "milestones" agreed with the troika.
Dutch Finance Minister Jeroen Dijsselbloem, who heads the Eurogroup, said that in order for Greece to receive the second sub-tranche, Greece would have to reform tax collection, liberalize professions and overhaul its public administration. Among other things, Athens has agreed to sack 2,000 civil servants by the end of June.