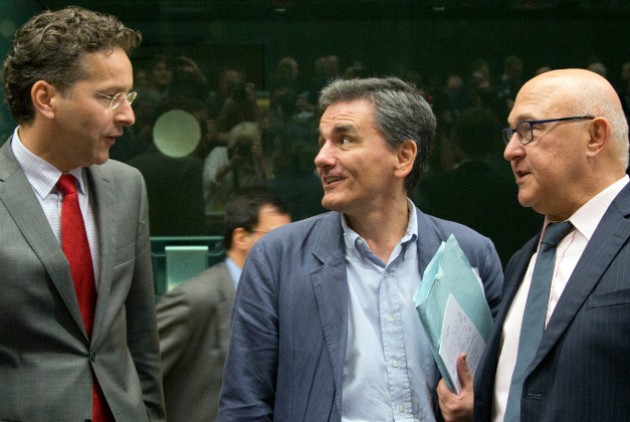 Eurozone Finance Ministers meeting in Luxembourg on Monday decided to partly disburse a 2.8 billion euro sub-tranche of bailout loans to Athens.
The Eurogroup decided to unblock EUR 1.1 billion immediately and examine the disbursement of the remaining EUR 1.7 billion at a Euro Working Group on 24 October, after Greece has presented September figures on the payment of State arrears.
Greece's Finance Minister Euclid Tsakalotos told reporters he was pleased with the results of the Eurogroup meeting. Tsakalotos saw his Eurozone peers sign off on the completion of a set of fifteen prior actions needed to unlock the bailout funds.
The Eurogroup commended Greek authorities for adopting the necessary measures to reform the pension system and energy sector, to strengthen bank governance, to fully establish the new independent Revenue Agency and to proceed with the privatization program.
According to a Eurogroup statement, it "acknowledges that significant progress has been made towards the clearance of net arrears during July and August and notes the time required for completing the data for September, which would be later in October. The institutions' positive assessment of Greece's clearance of net arrears would pave the way for the ESM Board of Directors to approve the further release of EUR 1.7 bn, which will be disbursed to a dedicated account to be used for arrears clearance. The Eurogroup will now turn its attention to the next stages of the ESM program".
Eurozone ministers also urged Greek authorities "to intensify their work with the institutions on the measures needed to complete the second review in a timely manner, and welcome the intention of the institutions to return to Athens in mid-October 2016".
EU Economy Commissioner Pierre Moscovici thanked Euclid Tsakalotos for the effort made by the Greek government, stressing that the measures implemented will reduce spending by 3 pct of GDP during the 2016-2018 period. The Commissioner added that all sides will continue to build a "success story" in Greece./IBNA