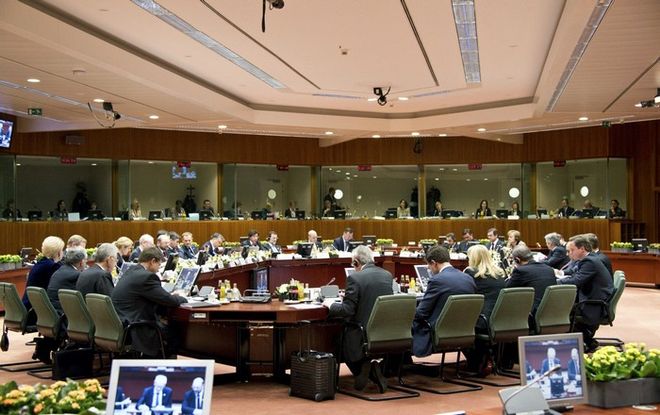 By Lefteris Yallouros – Athens
Eurozone Finance ministers gave the go-ahead Monday night for the release of the next tranche of Greece's bail-out loan (EUR 6.8 bn). The disbursement however will proceed gradually.
The next EFSF installment, amounts to EUR 3 bn. The installment will be disbursed in two sub‐tranches. A first sub‐tranche of EUR 2.5 bn will be approved by the Euro Working Group and the EFSF Board following the full implementation of the prior actions and once Member States have finalized their relevant national procedures. The disbursement of the second sub‐tranche of EUR 0.5 bn will be made in October 2013, linked to the implementation of the MoU milestones as agreed between Greece and the Troika. Furthermore, an amount of EUR 2.0 bn, equivalent to the income on the SMP portfolio accruing to euro area national central banks in 2012, will be disbursed to Greece's segregated account. A first part of EUR 1.5 bn will be passed on to Greece's segregated account together with the disbursement of the first EFSF sub‐tranche. The remaining EUR 0.5 bn will be passed on to Greece's segregated account together with the disbursement of the second EFSF sub‐tranche.
The IMF will also convene on the 29th of July to decide on how it will hand Greece its share of the rescue package, amounting to EUR 1.8 bn.
In exchange of EU financial aid, the Greek government is expected to lay off 4,000 public sector workers by the end of the year. It must also redeploy 25,000 civil servants, including some 2,000 teachers, and 3,500 municipal police are to be incorporated in the national forces. All these measures have been met with fierce opposition in Greece.
The Eurogroup Statement on Greece says significant further work is needed over the next weeks to fully implement all prior actions required for the next disbursement. Especially, the required reforms of the public administration will need to be carried out so as to increase the efficiency of the public sector while it is being steadily downsized, and further efforts are needed to improve tax revenue collection.
Earlier on Monday, the troika too had warned Greece that receiving the bail-out money in full will not be an easy task. "While important progress continues to be made, policy implementation is behind in some areas," it said in an update on Greece's bailout program.
"The authorities have committed to take corrective actions to ensure delivery of the fiscal targets for 2013-14 and achieve primary balance this year," it added, stressing that the outlook for Greece remained uncertain.