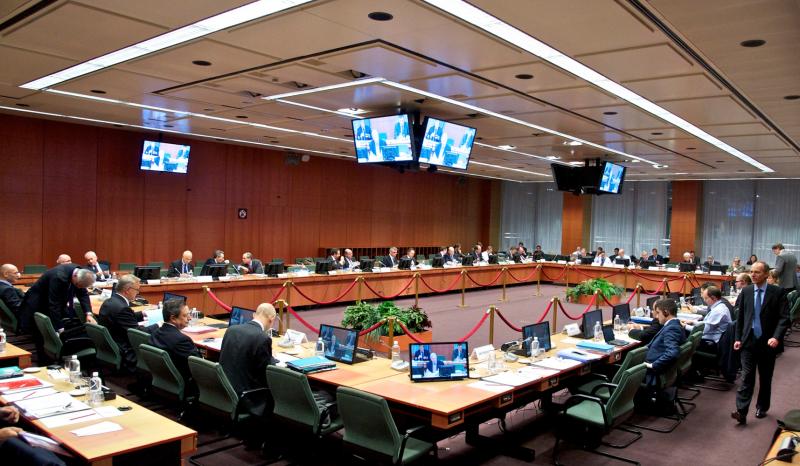 Athens, November 10, 2015/Independent Balkan News Agency
By Zacharias Petrou
A crucial Eurogroup meeting focusing on Greece was held in Brussels Monday after a preparatory Euro Working Group held via teleconference on Sunday night had failed to result in an agreement between Greece and its lenders.
This means that the disbursement of the next bailout tranche Greece was expecting to get approval for on Monday will be delayed. Also, the 10 billion euros designated for the recapitalization of the banking system also hang in the balance as long as the bailout review remains open.
Greece was given until the end of the week to deliver on the outstanding measures agreed with its creditors, so new bailout funds amounting to 2 billion euros can be disbursed along with another 10 billion euros for the recapitalization of the banking sector.
The two sides are now set to try to settle the outstanding issues by Wednesday so that another Euro Working Group, possibly with officials meeting in person, could be held by the end of this week, with Athens already three weeks behind schedule.
Eurogroup president Jeroen Dijsselbloem told a press conference that Greece has made "a lot of progress" but "the next thing to do is have all the financial sector measures in place before the completion of the recapitalisation process. Our Greek colleague, Euclid Tsakalotos, gave his commitment that this will be done".
Dijsselbloem added that the issues of non-performing loans, governance issues and bank recapitalisations are all linked.
Pierre Moscovici, EU commissioner, says that these bad loans need to be cleared up so that the Greek banking sector can return to health. He also suggested that some people are "strategic defaulters", who have chosen to stop servicing their mortgages.
Klaus Regling, head of the ESM, confirmed that Greece's banking sector needs less fresh capital than previously feared. That means the final bailout bill will probably be less than 86 billion euros.
In doorstep statements before the Eurogroup, German Finance Minister Wolfgang Schaeuble said Greece has not fulfilled the required prior actions allowing it to receive the 2 billion euros in aid. "All the measures have not been taken" he told reporters.
On his part, Eurogroup chairman Jeroen Dijesselbloem said: "Time is limited and prior actions must be completed, especially in banking governance issues so that a problem is not caused in the recapitalization of banks". Dijsselbloem added: "There are positive messages, work has been done and much progress was made regarding banks but there are still issues open and the various procedures must be completed within the next two weeks. Greece is not expected to receive the next tranche today".
In a clear effort to provide incentive to Athens to wrap up the ongoing program review, European Stability Mechanism (ESM) chief Klaus Regling said last week that the Eurozone is ready to discuss the further easing of Greece debt within 2015.
Troika officials are expected to begin arriving in Athens this week – possibly on Wednesday – in order for talks to begin on the next set of difficult prior actions that need to be implemented (including social security reform, taxation of farmers, etc.) for the disbursement of a 1 billion euros tranche.