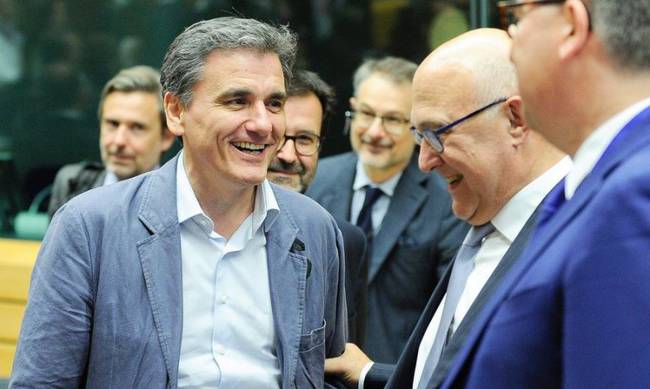 Athens, May 25, 2016/ Independent Balkan News Agency
By Zacharias Petrou
The Eurogroup approved the disbursement of 10.3 billion euros in bailout loans to Greece, in the early hours of Wednesday. Following a marathon meeting in Brussels it was decided that the aid will be handed over in several instalments on the condition that Athens carries out a few final prior actions.
Earlier, an agreement was finally reached between the eurozone Finance Ministers and the IMF on Greek debt relief, and reforms.
Eurogroup president Jeroen Dijsselbloem said: "We achieved a major breakthrough on Greece which enables us to enter a new phase in the Greek financial assistance program. This is stretching what I thought would have been possible not so long ago."
"I think there is some ground for optimism that this can be the beginning of turning Greece's vicious circle of recession-measures-recession into one where investors have a clear runway to invest in Greece," said Greek Finance Minister Euclid Tsakalotos.
The International Monetary Fund which was represented by its Director of the European Department, Poul Thomsen, effectively agreed to stay on in the Greek bailout program following the Eurogroup's commitment to offer debt relief to Greece.
However, crucially, Thomsen warned that he will not ask the Fund's board to join the bailout programme unless debt sustainability analysis shows that the measures on the table will work.
Thomsen stated: "We welcome that all stakeholders recognise that Greek debt is unsustainable. We welcome that it is understood that Greece needs debt relief to make it sustainable. And we welcome that there is agreement on the methodology and the objectives of what debt relief will achieve."
According to a statement by the Eurogroup, Greece will be offered "a package of debt measures which will be phased in progressively".
In the short term, these relate to 'debt management', smoothing Greece's repayments. This is where the IMF made a significant concession by agreeing that debt relief won't be delivered up-front, as its initial position was.
Medium-term measures will start from mid-2018, when the current bailout program expires. These measures will be implemented if an update of the debt sustainability analysis produced by the institutions at the end of the programme shows they are needed.
Also, profits which the European Central Bank has made on Greek bonds will be returned to Athens, to help with debt sustainability.
In the long-term, additional debt measures will be taken If necessary.