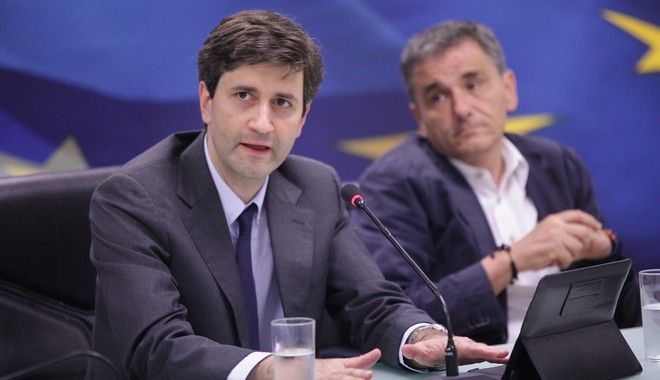 Athens, May 27, 2016/ Independent Balkan News Agency
By Zacharias Petrou
Greece's Finance Minister Euclid Tsakalotos admitted during a press conference on Thursday that there are still some prior actions to implement before Greece can receive bailout funds.
Following the 24 May Eurogroup meeting, a list of demands has been conjured up by creditors in order for Greece to be handed the 10.3 billion euro funds the Eurozone ministers agreed to unlock.
The government is expected to amend parts of the legislation it recently approved in parliament (multi-bill), find equivalents and carry out more prior actions before the first tranche of bailout cash (7.5 billion euros) is released mid-June.
According to Tsakalotos, however, nobody can deny that the bailout program review is finally over and that funds will be disbursed to Greece. The minister added that the vicious cycle of austerity measures will end and that Greece has for the first time achieved to draw up a framework to deal with the debt issue.
Earlier, Economy Minister Giorgos Stathakis admitted that creditors are demanding a flexible management framework for non-performing loans (NPLs) in Greece and that there is also an issue with the social solidarity fund recently announced by Alexis Tsipras which aims to cover the role of the EKAS benefit which is given to pensioners and will be phased out.
In an interview, Stathakis said the government has already proposed 2 or 3 possible solutions to creditors, adding that he was optimistic a compromise will be achieved.
Furthermore, German Finance Minister Wolfgang Schaeuble did not rule out the possibility that Greece might be forced to take additional measures after 2018, when the third Memorandum expires. However, he said that would probably not be necessary.
During a press conference, he said that Eurozone's finance ministers agreed that if after the completion of the program in 2018 there is still fiscal gap and is necessary, additional measures would be taken.
Meanwhile, US President Barack Obama commented the Greek debt crisis had "eased" but there was "still a lot of economic work to do." His comments were made to reporters on the sidelines of a G7 summit in Shima, Japan.
In the aftermath of the Eurogroup meeting, European Commissioner for Economic and Financial Affairs, Pierre Moscovici said the Greek people had made great efforts and implemented 'brave reforms'.
Moscovici said in an interview on Thursday that reforms being carried out could rebuild confidence in Greece, calling the deal reached a "win-win". However, the Commissioner added that creditors will still be vigilant with Greece and that "supplemental technical details" remain to be approved.
"There is still work to be done" he said characteristically, adding that the Commission is satisfied with reforms carried out so far.
According to latest information, for a first installment of 7.5 billion euros to be disbursed to Athens mid-June, the following actions must be carried out by the government:
full liberalization of the framework for managing and reselling non-performing loans (NPLs) on the secondary market
find equivalents for the EKAS benefit pensioners will not be retroactively paying back to the State
parliamentary approval of the agreement for the privatization of "Elliniko" former airport plot
appoint supervisory board members who will in turn appoint Board of Directors of new hyper-fund for privatizations
parliamentary approval of Piraeuas Port Authority privatization
Furthermore, for the 2.8 billion euros to be disbursed to Athens September onwards, the following actions must be carried out:
full establishment and operation of new privatizations hyper-fund
transfer of all State assets and companies agreed to the hyper-fund
liberalization of the energy market and establishment of new framework for renewable energy sources
complete assessment of bank Boards of Directors' & Hellenic Financial Stability Fund performance
Analysts point out that there is still a risk that Greece could be pushed back into instability by the demands of creditors, considering that government officials admit in private that the Eurogroup deal fell short of what they had been hoping for and Syriza MPs feeling they have already taken on a considerable burden over the last few weeks. Asking the coalition MPs to vote through more measures could be a tall order.