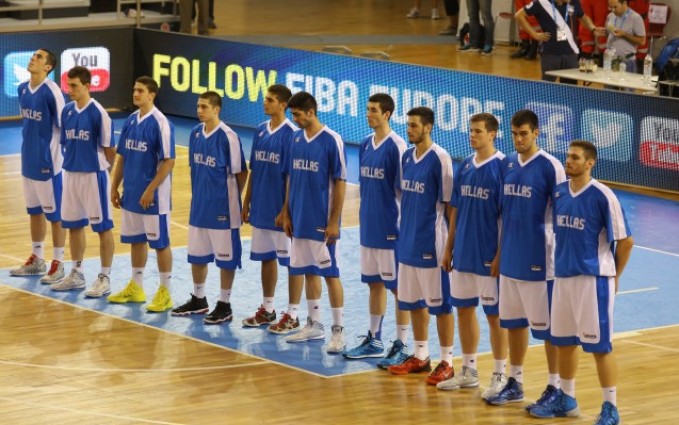 Review Hari Stefanatos
Greece was playing with their backs against the wall against Slovenia, but won 84-67 and qualified to the quarterfinals of Eurobasket!
The match was «do or die». And the Greek National Youth team did it! Costas Missas' team took the victory with score of 84-67, qualified for the semifinals of EuroBasket and is now waiting to face one of Turkey, France or Croatia.
Five players finished the match with double figures, with Liapis stopping at 22 points, while Agravanis (12 rebounds) and Diamantakos scored 16; Bochoridis added another 13 and Christodoulou 10 points. The best Slovenian in the game  was the amazing Rebets with 33 points.
The game
Greece only conceded 2 points in the beginning of the match by Slovenia, to then go on a 11-0 streak and get an early +9 (2-11) lead. The players of Costas Missa gouged tremendous energy on the court both in defense and in attack, with the lead reaching a double digit number early on (4-15). Shortly before the end of the first quarter, the "hosts" threatened primarily from the tree-point line, temporarily bringing the difference to -8 (15-23), with Agravanis scoring at the end of the first period to make it 15-25.
At the start of the second quarter, Slovenia took advantage of Greece's poor defense to score three consecutive three-pointers getting in the game again (21-26). At that point however, Greece stepped on the accelerator with the trio of Bochoridis, Diamadakos and Agravanis and with a 6-0 streak brought the difference back to +11 (21-32). The pace of the game from that point onwards belonged entirely to the Greek team, with the difference reaching 14 points (23-37). It only took two minutes of lapse in concentration from Greece gave the opportunity to Slovenia to do their own 10-0 run, reducing to 33-37. The … joy, however, did not last for long, as Greece did a new 8-0 in the final minutes and went back to the locker room with a 12 points lead (33-45).
Greece entered the second half with the same mood taking a 16 point lead (33-49) early on. The Slovenians seemed disorientated… and their frustration, offered easy points to their rivals, with the difference reaching 19 points (41-60) three minuts before the end of the end.
In the last minutes of the game Slovenia tried to turn the game around with consecutive three-pointers, but they could not find the target, with Greece emerging victorious and qualifying for the quarterfinals with the final score 84-67.
(Source: sport-fm)