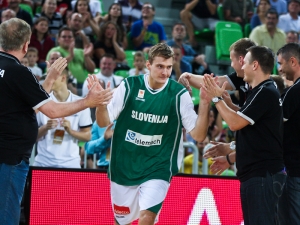 Slovenian coach Božidar Maljković narrowed Friday the list of candidates to represent Slovenia at the upcoming EuroBasket 2013 tournament to 16 players who will take part in the team's camp starting in a fortnight.
Maljković's efforts to short-list the candidates have been made somewhat easier by a handful of cancellations, including from star players like power forwards Erazem Lorbek and Matjaž Smodiš and center Primož Brezec.
Moreover, there is still some uncertainty over the participation of NBA point guard Beno Udrih, who is currently a free agent and hopes to find a new club before joining the Slovenian team.