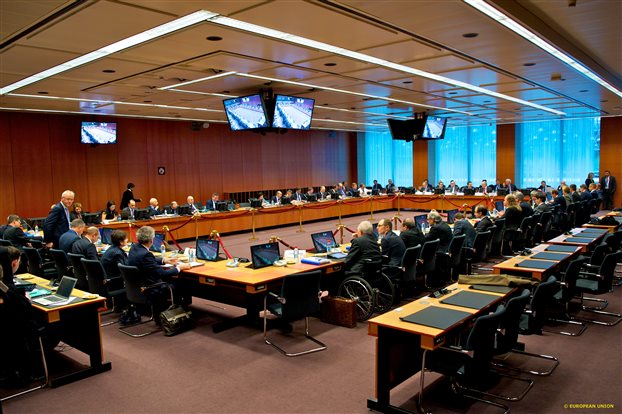 Athens, June 10, 2016/ Independent Balkan News Agency
By Zacharias Petrou
The Euro Working Group gave the much awaited go-ahead on Thursday evening for the disbursement of a EUR 7.5 billion sub-tranche of bailout funds to Athens, thus succesfully concluding the first review of the Greek bailout program.
Following a two and a half hour meeting in Helsinki, Eurozone deputy Finance Ministers concluded that the Greek government had met all of its obligations and carried out the necessary prior actions requred to unblock the first tranche of a total of EUR 10.3 billion.
Ministers compiled a positive compliance report which is now set to sent to Eurozone member-state parliaments that need to ratify the decision before Greece can receive money. The final approval will be provided by the European Stability Mechanism which convenes June 16. It is likely that the EUR 7.5 billion installment will reach Athens before the "Brexit" referendum on June 23.
The next aid tranche to Greece is possible this month, European Commission Vice President Valdis Dombrovskis said in an interview with Bloomberg earlier on Thursday.
"We expect this to happen already this month, probably somewhere mid-month or so," Dombrovskis said adding that "only a few issues" needed to be clarified before national parliaments can start voting on the disbursement of aid.
Earlier this week, Athens complied with the creditors' demand to carry out outstanding prior actions within 24-48 hours from the last Euro Working Group meeting (6 June).
Specifically, three crucial prerequisites were met: the signing of a MoU between TAIPED and Lamda Development for the sale of Elliniko; a decision on the new way supplementary pensions and "EFAPAX" bonuses will be calculated and; the transfer of data from the General Secretariat for Public Revenues to the Statistics Authority (ELSTAT).
The Greek government hopes that closing the first bailout program review will restore confidence and normality in the economy, allowing the Syriza-ANEL coalition government to implement some elements of its policy program that are not connected to bailout obligations.
The conclusion of the first bailout program review and the green light for the disbursement of the EUR 7.5 billion sub-tranche does not mean the Greek government is commitment-free until the autumn.
Athens must compile – in collaboration with creditors – its Medium-Term Program with measures to be taken and fiscal targets for the period up to 2020.
Also, deliberations must take place with creditors to decide the supervisory mechanism to be used for the payment of State arrears with the use of bailout funds (EUR 1.8 billion from the June package and EUR 1.7 billion from the September/October package).
Meanwhile, institution representatives are expected in Athens towards the end of June to discuss the second review of the Greek program which is set to begin in October.