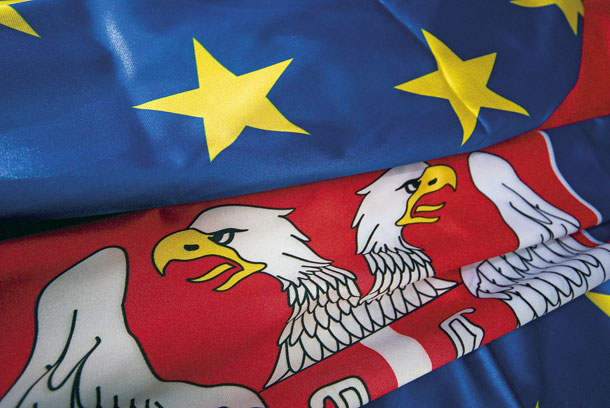 Belgrade, June 30, 2015/ Independent Balkan News Agency
By Milos Mitrovic
Half of the population in Serbia believes that country should become a member of the European Union, while 37 percents are opposed to a membership; 73 percents of Serbs are against the country's possible membership to NATO. This are the results of the poll "Activism of the citizens in Serbia" organized by CeSID (Center for Free Elections and Democracy). The poll was conducted from June 10 to 20.
The number of those opposed to the EU membership has significantly increased when compared to previous polls, CeSID's program director Djordje Vukovic said at the media conference in Belgrade today. Vukovic recalled that in 2011 Serbia's EU integration has enjoyed the support of 62 percents of citizens; in 2013 popular support to EU membership had reached 66 percents.
Considering NATO membership, the poll also showed that the voice against it has increased – 73 percents of citizens are opposed, while 12 percents are in favor of the idea. In 2012, according to CeSID poll, 65 percents were opposed while 25 percents of citizens were supportive to Serbia's NATO membership.
CeSID's poll was conducted with the support of USAID among 1,000 adult respondents. The survey also showed growing distrust to state institutions.
Namely, 31 percents of those interviewed trust to the government, 27 percents are confident of the president while 20 percents trust to parliament. The political parties have the lowest support, about eight percents of the citizens.
Vukovic said that March poll has showed that 58 percents of Serbs have positive attitude towards the army, while in June support fell to 50 percents.
Some 40 percents of the interviewed were ready to engage in resolving public issues, while 26 percents were skeptical considering what they can do, CeSID's executive director Bojan Kacar said. On the other hand, "electoral activism" was still high with 56 percents of the citizens who vote regularly. Some 26 percents of respondents said that they voted on most of the elections, Kacar specified.