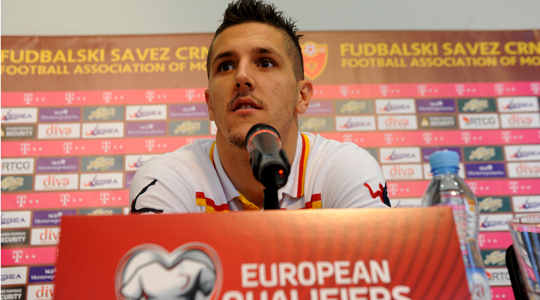 By Adnan Prekic – Podgorica
Montenegro national football team will play the match, which may be crucial for the further course of qualification for the European Championship "France 2016", without its captain Mirko Vucinic.
National team coach Branko Brnovic is optimistic before tomorrow's match against Sweden. "We're going for a win. Sweden is a strong team, Ibrahimovic among the top three world players. But, with or without him, they are a strong selection", said Brnovic.
"Captain Mirko Vucinic will not play. The others are ready", said coach of the national team of Montenegro.
ManchesterCity first team player Stevan Jovetic (photo) will lead the attack of Montenegro against Sweden. He expects a good match and a great atmosphere. All national teams that played in Gorica have not had a great time and I do think that it is not going to be easy for Sweden's national team, too. But, it's a good team, very disciplined, with a lot of good players", Jovetic said.
Many Swedish journalists traveled to Montenegro to see their national team. At today's press conference they asked Brnović whether Montenegrins love football.
"The people here are so much fond of football. In the past few rounds we made our people happy, but in the last two games I know that we have not done that", said Brnović.
The match of the qualification group "G" for "EURO 2016" between Montenegro and Sweden is played on Saturday in Podgorica, and starts at 20.45.