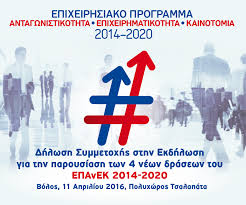 Athens, August 12, 2016/Independent Balkan News Agency
By Spiros Sideris
To the linking of research and innovation with entrepreneurship and enhancing competitiveness, productivity and internationalization of enterprises towards international markets, in order to reach the quality innovative entrepreneurship and the growth of domestic added value targets the action "Research – Create – Innovate".
The action takes place through a single Application Guide and joint notice of invitation for all categories of interventions in successive evaluation cycles. Its budget amounts to a total of 280 mln euro (public expenditure) and will be implemented through three cycles, with the first budget cycle amounting to 126 mln euro (public expenditure).
Who are the beneficiaries
Beneficiaries of the measure are enterprises and research organizations. More specifiaclly, for each of the three interventions:
Research and Development of Small and Medium Enterprises: The intervention is aimed at Small and Medium Enterprises of any legal form, irrespective of the date of their establishment. Potential beneficiaries are either a Small and Medium Enterprise (SME) or Groups of Small and Medium Enterprises (SMEs), independent of each other. Maximum total budget per action is EUR 200,000 for an enterprise, 350,000 euros for both companies, EUR 450 000 for three companies and 500,000 euros for more than three companies.
Business partnerships with research organizations: This intervention involves groups of businesses, in whatever legal form, size and operating time, with research organizations, with the main beneficiaries the businesses. As part of the intervention: in partnerships of two or three or four partners – bodies, one would necessarily have to be an enterprise. In partnerships of more than four partners – bodies both should necessarily be business. The maximum total budget per intervention is 1 mln euro.
Implementation of Research Results: Potential beneficiaries are individual companies regardless of their legal form, size and creation date. The maximum total budget per intervention is 2 mln euro.
Which costs are covered
To implement their plans, potential beneficiaries can create suitable for their case mixture of operations utilizing a wide range of aided expenditure of the following categories: classical research and development activities (eg basic research, industrial research, experimental development, feasibility studies), promotion of innovation activities (eg acquisition/validation/protection of patents, secondment of staff from research and extension institutions), support activities (eg participation in trade fairs, consulting services).