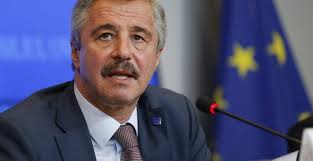 By Spiros Sideris – Athens
The benefits for Western Greece from the exploitation of hydrocarbons mentioned Environment Minister Yiannis Maniatis, during a special event held in Patras, on the initiative of the Region.
In particular, as noted by Yiannis Maniatis, the investigations in the Gulf of Patras will begin in 2015, and the deposit of oil is valued at EUR 14 billion.
According to the Environment Minister, the annual revenue for the local community will be from EUR 110 to EUR 150 million and will create 1,000 direct and indirect jobs".
Regarding the procedures incurred on contracts, the minister stressed that all competitions are governed by the highest degree of transparency, while for the protection of the environment he emphasised that the tightest conditions at international level have been taken into account, in addition to all local parameters, such as tourism the aquaculture, protected areas etc.
Still, Giannis Maniatis announced that the process for a new round of concessions has began, for the exploration and exploitation of hydrocarbons in areas of Arta, Aetoloakarnania and Achaia, after the interest shown by the Italian company.