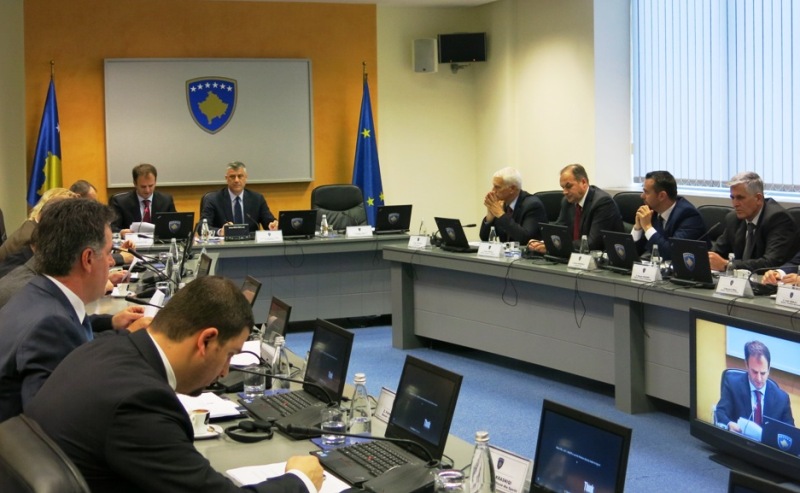 Pristina, April 18, 2014/Independent Balkan News Agency
By Albana Skendaraj
Government of Kosovo has approved in today's meeting the bill on the amendments relating to the mandate of the European Union Mission for the Rule of Law in the Republic of Kosovo.
The government cabinet (photo) concluded that it's necessary to make the amendment of laws that relate to EULEX powers and to transfer them to the country's institutions.
The bill which was approved includes amendments of laws that directly relate to the EU mission in Kosovo. They are laws on Special Prosecution, powers of judges and prosecutors of EULEX, Criminal Code, etc.
According to this bill, all institutions of Kosovo in the domain of the rule of law and order, will be governed by domestic institutions and domestic representatives.
This means that Special Prosecution will be governed by a domestic prosecutor. Judging panels will be comprised of two domestic judges and one from EULEX for all cases which will be tried in Kosovo.
"As of April 15 of this year, there will not be any cases which will be handled by EULEX prosecutors without the authorization of domestic prosecutors, respectively Special Prosecution and State Prosecution", declared today Mr. Thaci in the government meeting.
Meanwhile, the appointment of EULEX judges and prosecutors will be done only upon the proposal of the Prosecution Committee and Judiciary Committee of Kosovo and will be decreed by the president of the Republic.
"This bill is an agreement, it's not a unilateral action of the government, but a preliminary consent which has been given by EULEX institutions in Kosovo and EU", said the prime minister.
EULEX mission's mandate is expected to expire on June 15, 2016. /ibna/