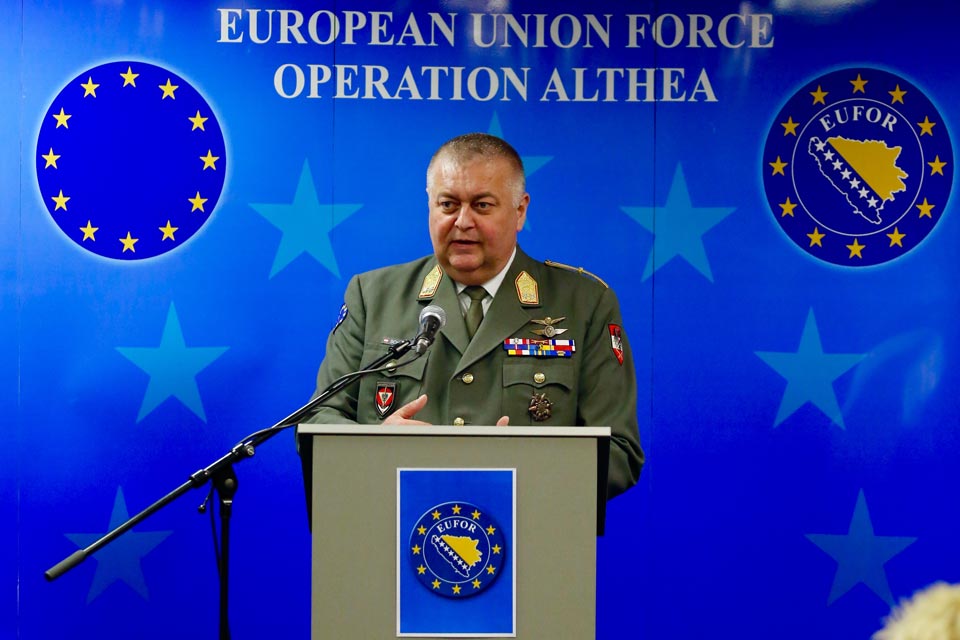 The commander of European Forces (EUFOR) in BiH, Major General Friedrich Schotter, said at the press conference in Sarajevo on Friday,  that the security situation in BiH is calm and stable.
Schrotter, who in few days will to leave the office, address to media to inform them what EUFOR completed in last year.
"According to standards, the security situation in BiH, is quiet and stable. When I say "quiet and stable" you should consider that I use military dictionary. It means one thing for a soldier, and probably something else for civilians. For us soldiers "quiet and stable" means that a situation is peaceful and stable in light of our willingness to endure and do more than it would the average civilian could do", Schotter explained.
He added that the challenges to the security situation in BiH, that the country faces various types of them which are arising from general criminal activity, as well as in other European countries. However, Schotter believes that law enforcement agencies and BiH authorities are doing a good job in struggle with these challenges. According to him, in the wider area exists a certain concern when the security situation is in question.
Schotter emphasized that their goal is, within the mandate of EUFOR in BiH, to strengthen cooperation with the BiH Armed Forces.
"We have a lot of ideas. The activities that we plan for the upcoming year, is turned on the support of the efforts to reduce surplus of weapons ammunition and explosives in BiH. We will also work on further developing of the project of identification and certification of weapons in BiH. In addition, the emphasis will be on cooperation with law enforcement agencies and we will make a lot of effort in developing of capacity in response to natural and other disasters", Schotter said.
He explained that in the last 12 months, 2,626 tons of ammunition has been disposed of. Schrotter stressed the fast and efficient disposal of 5,388 pieces of white phosphorus within a very short time frame.
"However, with approximately 18,000 tons still in storage, there remains a significant challenge to reduce the stockpile to the end-state target of approximately 5,000 tons by the end of 2018. Significant progress has been achieved by Minister of Defence, Marina Pendes, and her Ministry through the inclusion of the AF BiH weapons inventory into the Ammunition, Weapons and Explosives (AWE) Master Plan", said the EUFOR Commander.
Speaking about future plans, he said that EUFOR continues to develop a Joint Integrated Capacity Building and Training Plan with AF BiH. Schrotter said that he is pleased to report that this effort is now largely focused on monitoring, mentoring and empowering, as AF BiH ability to define, develop and deliver its own training programmes improves.
According to him, over 1 900 soldiers from the AF BiH were trained within one year. Eleven units were trained to a level where they reached an internationally recognised military standard.
Mine Risk Education services by EUFOR, Schrotter stressed, continue to provide essential support to the people and children of BiH by addressing the education delivery gap that the local authorities are unable to meet on their own.
"Over 20,000 people received this training in 2016. This task is achieved by our LOT House personnel, who are not only the eyes and ears of EUFOR, but are also an essential connection to the local communities that they operate within", concluded the EUFOR Commander.
EUFOR Operation Althea is currently made up of soldiers from 14 EU member states and 5 partner nations. EUFOR is based on a mandate issued by the security council of the UN and closely cooperates with NATO based on the 'Berlin Plus' agreement. It is the successor of IFOR and SFOR and contributes to the maintenance and stability of a Safe and Secure Environment in BiH, helping to promote a climate in which the peace process can continue./IBNA