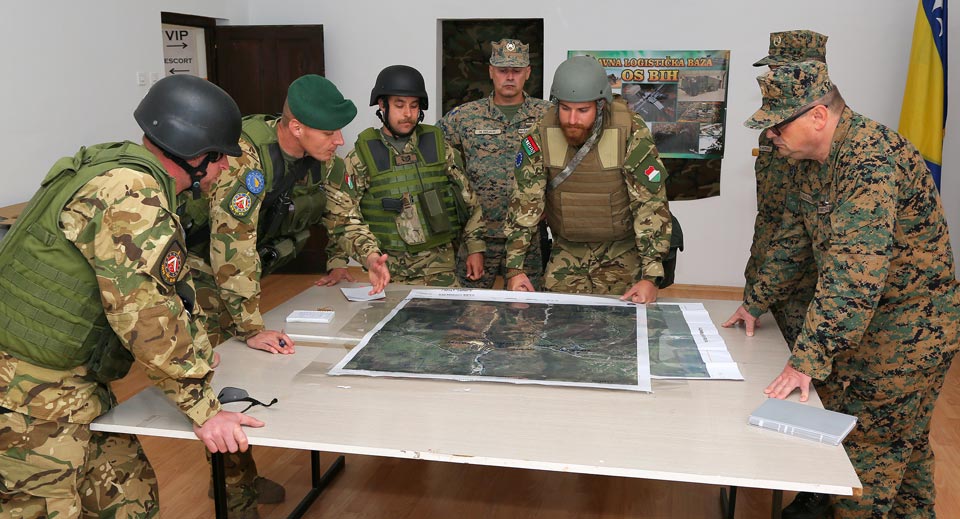 The participanting units held on Sunday the closing ceremony of the exercise "Quick Response 2017″, which took place in the last several days in and around Sarajevo. This ceremony concluded months of planning and cooperation between EUFOR, the Ministry of Security and the Ministry of Defence for BiH.
Exercise Director, Brigadier General József Szpisják, congratulated all of the participating soldiers for their hard work and commitment in making the exercise a huge success and thanked them for their professionalism and enthusiasm throughout.
"This international exercise involved EUFOR's Multinational Battalion, the Intermediate Reserve Forces from the United Kingdom and the Kosovo Force Tactical Reserve Battalion as well as Law Enforcement Agencies and the Armed Forces of BiH. All of them, working together, for the first time exercising realistic scenarios in order to test their respective contingency plans", stressed EUFOR in a press release.
Commander EUFOR, Major General Anton Waldner said that the Quick Response 17 exercise has provided the opportunity to increase interoperability with both the Armed Forces and Law Enforcement Agencies of BiH as well as to test EUFOR tactics, techniques and procedures in dealing with a number of different types of threats.
"At the strategic level, the European Union remains committed to Bosnia and Herzegovina and through EUFOR's presence will continue to support the county's efforts to maintain a safe and secure environment on the country's path to EU accession. Therefore your presence in this high profile exercise helps reinforce this strategic objective", he said in his address to the soldiers at the closing ceremony.
"Quick Response 2017 was a EUFOR-led peace support operation exercise which successfully demonstrated EUFOR's capability to call in reserve forces in order to maintain a safe and secure environment in support of local authorities, law enforcement agencies and the Armed Forces of BiH", Commander Waldner explained.
One of the scenarios in the exercise was the situation that Sarajevo International Airport comes under attack from fictitious terrorist outbreaks with hostages taken. The training covered the cooperation of SIPA, the Border Police and EUFOR's British contingent to defuse the situation and regain order. NATO's Kosovo Force Tactical Reserves and the Hungarian element of EUFORs Multinational Battalion were put through their paces having to deal with riots and the securing of a building which contained civilians and enemy forces. While the Turkish troops from EUFORs Multinational Battalion had to ensure the area around an ammunition site was clear of all threats and boobie traps.
"EUFOR is able to draw on mobile and versatile Over the Horizon Reserve forces, if required, to augment in-theatre forces and deal with any military contingency that arises as well as supporting the Ministry of Security and Ministry of Defence", EUFOR concludes./IBNA