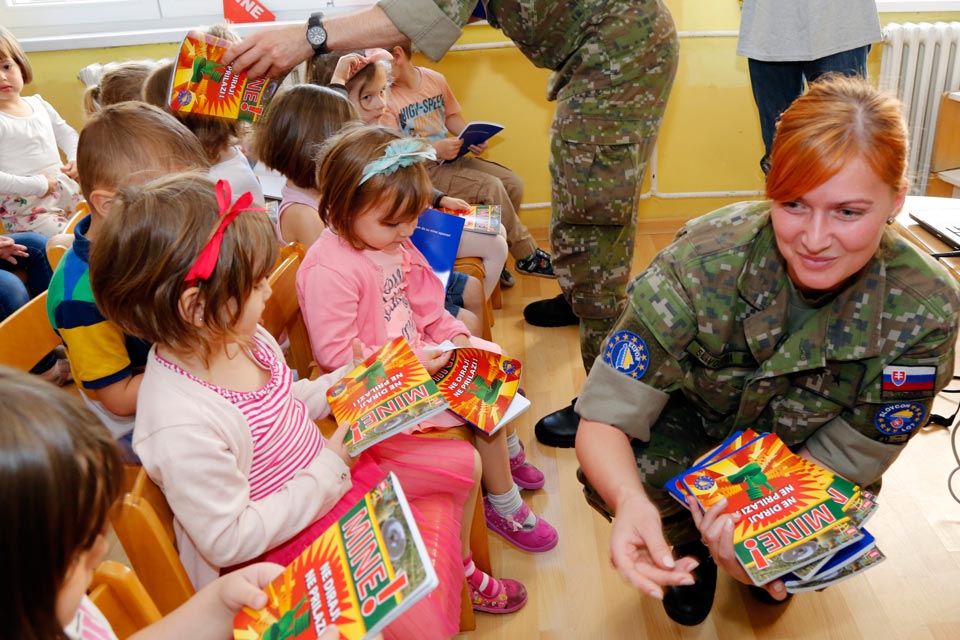 In an attempt to reduce the risk of landmines and unexploded ordnance to humans and the environment and to make BiH a safer and more secure place, the EUFOR team and the team of BiH Armed Forces visited this week Kindergarten "Visnjik", in Sarajevo, to provide Mine Risk Education to a class of 60 children aged between 4 and 5 years old.
This visit represents the continuation of European Union Forces (EUFOR) in creation of safer environment for future generations in the state. Last year, more than 20 000 children  and personnel in at-risk areas received EUFOR Mine Risk Education. Conservative estimates that the number of communities affected in BiH stands at around 1 417 and there are still 1 141 km2 of suspected hazardous areas with mines throughout the country.
"Mine Risk Education provides children with the knowledge of the possible threat and how best to avoid it. The content is delivered by EUFOR's Liaison and Observation Teams (LOTs) and Mine Information Coordination Cell (MICC). The training is closely regulated by the BiH Government to international standards. Each LOT is provided with an educational 'package' so they are able to travel to schools, workplaces and homes to give the presentations to those who need it. LOTs have been conducting joint MRE lectures with the Armed Forces BiH in order to enhance the country's ability to operate independently, part of the Capacity Building and Training mandate of EUFOR", announced EUFOR.
Lieutenant Eva Pilsakova, from the Slovakian Armed Forces is the deputy commander of the LOT house in Sarajevo and is involved in this kind of education. She stated that reaching out to the community, regarding important matters such as mine risk education is what the LOT Houses do well.
"It is great to see so many children so engaged and learning potentially lifesaving skills, stressed Plisakova.
Professor of Preschool Education at the "Visnjik" Kindergarten, Elvira Barucija, stressed that a presentation on Mine Risk Education for kindergarten children is very significant since preschool aged children have never seen a mine and do not know what mines look like. As she added, in the presentation children will be introduced to the appearance of mines and the fact that they are deadly.
"The children will adopt the correct way to react in these dangerous situations, learn that mines mustn't be touched, that it is very important to advise an adult of any mine seen and which number to call in such an occassion", Barucija concluded.
EUFOR provides Mine Risk Education all over the country to vulnerable and risk groups such as farmers, forestry companies and in particular children of all ages in order to raise awareness and promote safe behavior. Currently there are 123 Mine Risk Education instructors (54 EUFOR and 74 AFBIH) who are involved in the joint EUFOR and AFBIH MRE project "Find out more about mines" conducting mine risk education in mine affected communities all over BiH. The education is delivered in a fun and interactive way in schools and kindergartens whilst still ensuring that the important message is understood./IBNA