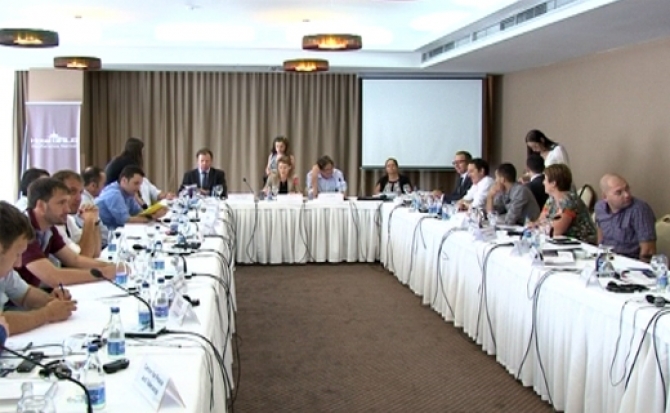 Pristina, June 24, 2014/Independent Balkan News Agency
By Elton Tota
A consultative meeting was held today in Pristina hosted by the European Union office in Kosovo.
In this event, representatives of civil society along with EU representatives, discussed about the current situation of the main reforms and priorities of Kosovo which will be reported in the next Progress Report on Kosovo.
The responsible on Kosovo at the General Directorate for Enlargement, Catherine Wendt, said that she's expecting work to be done for the existing challenges.
"Last year was a good one for Kosovo, with successful negotiations for the Stabilization and Association Agreement. Today, I look forward to hearing about the positive steps and the developments that have been made and I expect focus on current and future challenges. Your contribution in today's meeting will offer a precious picture for the progress report, which we're on the process of preparing", said Wendt.
Meanwhile, the head of the Political Economic and European Integration Unit at the EU Office in Kosovo, Thomas Gnocchi said that the meetings with civil society will lay out a more real situation about the achievements made by Kosovo.
"These consultative meetings enable us to have a more balanced point of view, when it comes to the progress that Kosovo has made in our consecutive progress reports. But, we see these meetings as a means for your strengthening, namely civil society vis-à-vis authorities", said he.
Meanwhile, Luan Shllaku, head of the Kosovar Foundation for Open Society (KFOS) said that he hopes on cooperation between the government of Kosovo and civil society.
"We hope that this will be a valuable exercise not only for organizations of civil society in Kosovo to raise their voice in the process of integration, but also for the EU and the government of Kosovo to build an important cooperation with this segment of the state consolidation process. We hope that as a result of the engagement of all stakeholders, the process of integration in Kosovo will be accelerated, overcoming all political barriers", said Shllaku.
Fight against corruption was an important topic of the discussions for the rule of law. As far as human rights are concerned, civil society gave its perspective on issues such as implementation of the strategy for communities and repatriations, freedom of speech, involvement of society and general situation of marginalized groups. /ibna/