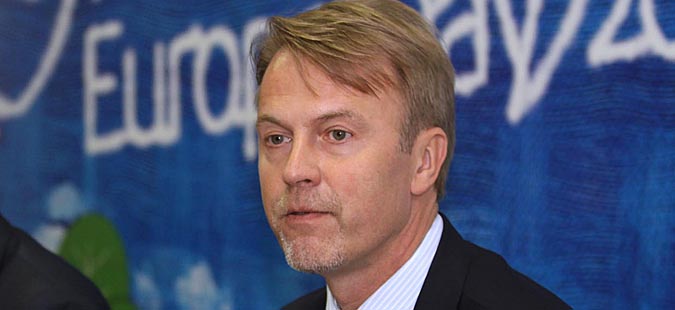 Skopje, April 30, 2015/Independent Balkan News Agency
By Naser Pajaziti
EU ambassador to Skopje, Aivo Orav said that political parties in FYROM are not making sufficient efforts to overcome the political crisis and that the EU is worried about this situation.
"Regardless as to when the talks in Brussels will start, political parties have not yet come out with serious proposals about the solution of the political crisis, but I must reiterate that the European Union is worried about the situation in Macedonia", declared today ambassador Orav in a news conference.
Orav encouraged the opposition once again to return to parliament.
"It's necessary to create the necessary conditions in order for the opposition to return to parliament and for debate to continue there. The EU cannot tell to political parties what to do, but they must agree on this. We must understand that Macedonia's EU path is more important that the rating of political parties and they must realize that there exist no perfect solutions", said European ambassador Orav.
Orav said that political parties no longer have time and that he expects actions in the next few days.
"Brussels is preparing the October progress report on Macedonia and if no progress is made, the European Commission will face a dilemma as to whether to recommend the opening of negotiations once again", said the EU ambassador, Aivo Orav. /ibna/