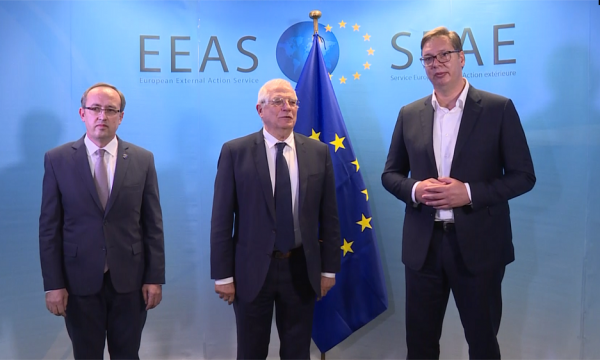 Serbian President Aleksandar Vučić and Kosovo Prime Minister Avdullah Hoti issued a joint statement shortly before their meeting in Brussels.
The Joint Statement:
"On the occasion of the resumption of the EU-facilitated dialogue between Belgrade and Pristina, President Aleksandar Vučić and Prime Minister Avdullah Hoti confirmed to EU High Representative for Foreign Affairs and Security Policy and Vice-President of the European Commission Josep Borrell, that they give the highest priority to EU accession and the continuation of work on the EU-facilitated Belgrade-Pristina dialogue, which is a key element of their respective European pathways.
They also pledged to redouble their efforts to ensure further alignment with the EU, in line with their respective commitments.
In this regard, the recently agreed documents in Washington, based on previous commitments on the dialogue between the two parties, could make a useful contribution to reaching a comprehensive, legally binding agreement for the normalization of relations"./ibna