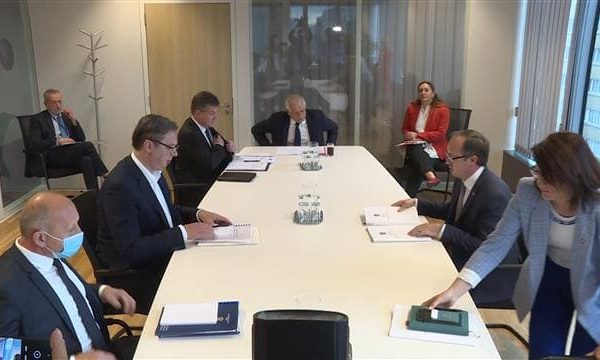 EU Special Representative for the Belgrade-Pristina dialogue Miroslav Lajcak said that the issues of missing persons and displaced persons, as well as economic relations, were discussed at the first physical meeting for the continuation of the Belgrade-Pristina dialogue.
"I am pleased that after today's initial exchange of positions, both leaders have agreed to work intensively at experts level as early as next week in Brussels", Lajcak said.
EU Special Representative Miroslav Lajcak emphasized that the issues of missing persons and displaced persons were symbolic in terms of reconciliation, but also that they were a very "real issue" for families living in uncertainty for decades.
He also stressed that it is vital to work with the International Committee of the Red Cross to resolve the remaining issues and close this matter.
On the issue of economic co-operation, Lajcak stressed that it is "one of the pillars of the EU".
"Intensifying economic co-operation means making full use of the economic potential of Kosovo and Serbia to create new jobs and improve the living conditions of citizens", said Lajcak, who thanked both sides for participating in the dialogue that took place in Brussels.
Lajcak announced the next high-level meeting in early September, while next week there will be an experts level meeting.
Following the resumption of the dialogue in Brussels, Aleksandar Vucic reiterated that Belgrade and Pristina have diametrically opposed demands.
President Vučić said he expects other issues to be raised in the dialogue with Pristina from September, including the most difficult one, the issue of property. He also said that he asked for the establishment of the Association of Serbian Municipalities to be included, while Pristina had a different idea.
"We can not get away from what was signed and we will continue to insist on it", Vučić said.
The President of Serbia pointed out that Serbia was serious and responsible, and that this can be seen during the dialogue, adding that we must participate in the dialogue with Pristina, because otherwise we would be completely isolated from the world.
"It is the decision of the UN General Assembly that the EU is conducting a meaningful dialogue between Belgrade and Pristina. Thus, we will be isolated not only in Europe, but in the whole world, if we do not participate in it and it is not pleasant for us», Vučić noted
He also pointed out that it was not easy for him to sit across from Hoti and listen to him saying that they are just victims and that we are bad people.
"You have to answer to that. We need to get involved in this and be fair and try to solve some of the problems. Because, we will have to live next to the Albanians for the next 100, 200 and 300 years. And the sooner we solve it, the better", Vučić said.
For his part, Kosovo Prime Minister Avdullah Hoti said after the meeting that two issues were discussed, missing persons and economic development. "It was a difficult meeting. I have presented the position of Kosovo and I will not change it. This is the last phase of the dialogue on all outstanding issues."
According to Hoti, Kosovo is entering into dialogue with Serbia on a mutual recognition agreement and said the process would be completed within weeks or months./ibna