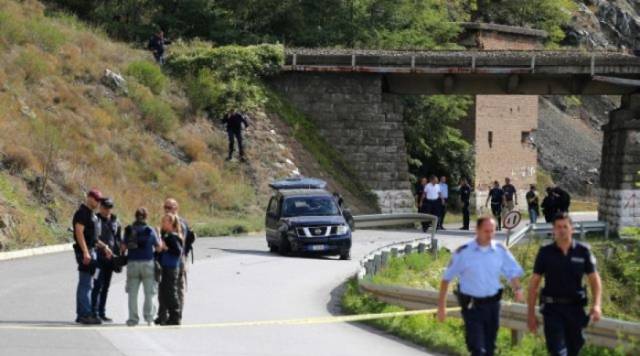 Pristina, September 19, 2013
EU Office, US Embassy in Kosovo, President of Republic and many other institutions have condemned the attack against EULEX member taken place today. Head of the EU Office, Samuel Zbogar has considered this act as an attack against European Union.
But he said that this cannot act as an obstacle for the political process in Kosovo.
"We continue to remain committed for the implementation of the agreement reached on April 19", said Zbogar during an emergency press conference.
Meanwhile, head of EULEX, Bernd Borchardt has condemned the attack against the Lithuanian EULEX officer and has demanded the assistance of those who have information on this matter.
"We will review the security of the members of EULEX and if needed, we will increase their numbers in the north", added Borchardt.
Meanwhile, President of the Republic of Kosovo, Atifete Jahjaga, accompanied by Borchardt, has visited the EULEX officer which was wounded today near Zvecan.
Jahjaga expressed her condolences for the death of a member of EULEX police, while wishing a quick recovery to the other officer.
"We will be close to each other to overcome this difficult moment", said Jahjaga.
US Embassy in Kosovo has also strongly condemned this act.
"The assault against EULEX is an assault against EU and the entire international community. It's an assault on everything that we are committed to, including peace, security and rule of law. There's no tolerance for violence, threats and intimidation in today's Kosovo", states the press release of the US embassy.
According to this embassy, attempts to cause destabilization in the north of Kosovo are unacceptable.
"We fully support the efforts made by the authorities in finding the authors of this crime in order to bring them to justice. Attempts to destabilize progress in the north of Kosovo are unacceptable. We call upon all individuals to act with responsibility and continue their support for the implementation of the April 19 agreement between Pristina and Belgrade. We reconfirm our engagement in full support of the implementation of this agreement, including the holding of local government free, honest and comprehensive elections on November 3 in Kosovo", further states the press release.
The assault against members of EULEX has taken place this morning in the commune of Zvecan and resulted in the death of a member of EULEX mission. /ibna/