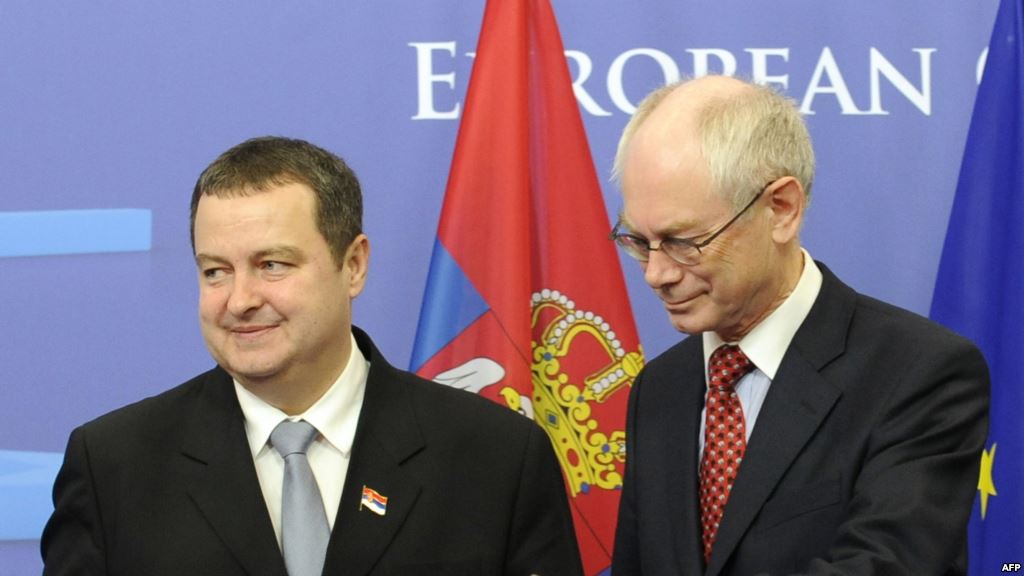 By Miloš Mitrović – Belgrade
President of the European Union Council Herman Van Rompuy and Swedish foreign minister Carl Bildt congratulated Serbia on the "historical" step towards it`s integration into EU. On Friday EU Council decided to approve the date for the start of the accession negotiations with Serbia. The talks should start in January 2014, but in the meantime EU will carefully monitor the process of the normalization of the relations between Belgrade and Priština.
On Monday, Van Rompuy and Bildt met Serbian top officials during their separate visits to Belgrade.  EU fully supports Serbian path to Europe, Van Rompuy said after the meeting with Serbian Prime Minister Ivica Dačić. At the same time, "fundamental efforts" regarding the implementation of the Brussels agreement between Belgrade and Priština should be continued, Van Rompuy emphasized.
''European Union encourages Serbian government efforts both with regard to the rule of law and it`s struggle against the organized crime and corruption; EU will provide Serbia political and financial support for the needed reforms', EU Council head stressed.
Van Rompuy congratulated Serbian government and citizens "historical step" towards the EU, alluding to start of the accession negotiations with Serbia, which was promised by European leaders at the Brussels summit last week. The EU decision was the result of the "courageous and far-sighted" steps of the leaders in Belgrade and Priština, Van Rompuy said.
The next step considering Serbian integration process would be done at the EU intergovernmental conference "at the latest" in January 2014, Van Rompuy reiterated.
"People are making history and we will make history together", he said.
Serbian Prime Minister Ivica Dačić stressed that the next steps in the integration process would be carried out "without any additional preconditions and subsequent verifications".
"We want to deserve the EU membership based on the quality of the internal reforms in Serbia, rather than being rewarded by entering the EU", Dačić said.
Dačić stressed that "both technical and political negotiations should start immediately".
"I congratulate Serbia on the opening of the accession negotiations, which was confirmed by the EU Council. This is the path that leads Serbia into the new phase of the reforms and integrations'', Swedish foreign minister Carl Bildt said after he met PM Dačić.
Bildt also met Serbian foreign minister Ivan Mrkić. Bildt and Mrkić both emphasized that Serbia from now on should direct it`s attention towards the economy.
Ivan Mrkić recalled that Carl Bildt is an old friend of Serbia; Bildt had been visiting Serbia at the difficult moments but he always "understood us and tried to help us, which Serbia appreciates". Mrkić also praised Bildt`s recent efforts directed "to reach the right decision by the EU Council".