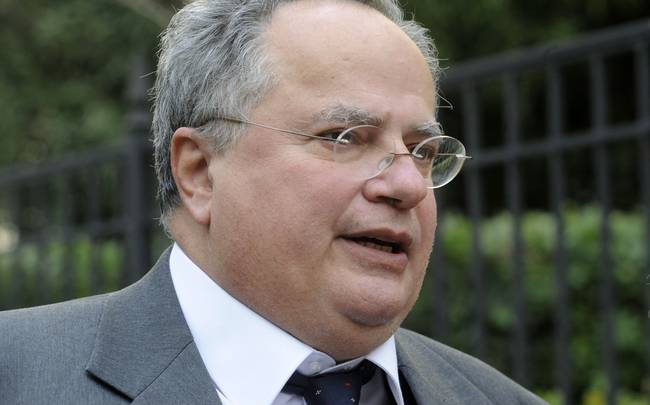 Athens, January 30, 2015/ Independent Balkan News Agency
By Spiros Sideris
Satisfied appears the Greek side from the final Draft of Conclusions on Ukraine, which was adopted yesterday evening by the EU Foreign ministers unanimously at their extraordinary meeting (in the first attendance of Nikos Kotzias) in Brussels.
According to information, the amended text reflects very much the Greek positions and incorporates the majority of the comments Athens had tabled already by Wednesday and which had reported "To Vima".
In the "hot topic" of the sanctions, where many partners have expressed concern that Athens would exercise its right to veto, the extension of existing restrictive measures against persons only for six months instead of one year as originally planned satisfies Athens. These restrictive measures will now apply until September 2015. Regarding the introduction of new persons in the lists of individual sanctions, the decision is delayed and is avoided explicit reference to Russian nationals.
But most importantly, it was removed any reference to strengthening economic sanctions and was replaced by a general reference to "appropriate actions", if it is deemed necessary in the future. The European Commission will naturally take to be prepared for this eventuality, but there is no automation. In addition, it was removed the link between the decisions of the Foreign Affairs Council and the European Council. The issue of Ukraine, however, is expected to also occupy the extraordinary meeting of EU leaders at the summit on February 12.
The text called on all parties, ie both Russia and Ukraine to assume their responsibilities. In terms of a specific reference to Russia, it is limited only to the condemnation of the actions of separatists and does not extend directly to Russia.
Furthermore, it was deleted the reference, which existed at the initial Preliminary Draft, in the Declaration of Heads of State and Government of January 27, for which the Greek Government considers that it was adopted without its consent. Also, it was removed the reference to the need to address the Russian propaganda by the EU, not only in the Ukrainian crisis, but more broadly within the Eastern Partnership and the countries covered by it. Finally, a special reference was added for the protection of the rights of national minorities, in order to protect the Greeks of Ukraine who these days are caught in the "eye of the storm" in Mariupol.
Greece is working to restore peace and stability in Ukraine and at the same time to avoid a rupture between the EU and Russia, said Greek Foreign Minister Nikos Kotzias coming in the extraordinary meeting of EU Foreign ministers.