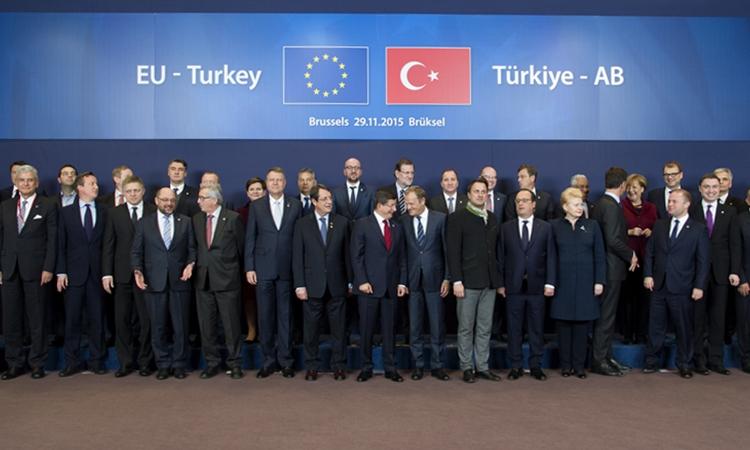 Brussels, November 30, 2015/Independent Balkan News Agency
By Spiros Sideris
The leaders of the European Union and Turkey have agreed to grant the amount  of EUR 3 billion to help Turkey receive and host Syrian refugees, said the president of the European Council, Donald Tusk after the summit between the European Union Turkey in Brussels.
The two sides also decided to set up a "joint action plan" to halt the refugee flows and to give new impetus to the negotiations for Turkey's accession to the EU, said the EU leaders and the Prime Minister of Turkey Ahmet Davutoglu, during a press conference.
In return, "the admission procedure (Turkey) should be reactivated", he added, confirming that Chapter 17 of the accession negotiations will be opened.
Angela Merkel confirmed that the European Union will open the Chapter 17 of accession negotiations with Turkey this year.
His satisfaction in reaching an agreement with Turkey on the management of refugee flows, expressed the President of the European Council Jean-Claude Juncker, stressing however that everything will depend on whether Ankara will meet the commitments which has undertaken.
Juncker he said that there will be no resolution of the refugee problem without the cooperation of the EU with Turkey. "Turkey hosts more than 2 million refugees and that is admirable in all respects. We would like to support Turkey to continue this effort", said the Commission President.
On the visa issue, Juncker said the matter will be examined and that the Commission's first report will be presented in spring 2016, and could eventually be implemented in autumn 2016. Indirectly but clearly, however, he made it clear that the issue of visa depends on the policy to be adopted by Turkey to halt refugee flows and the implementation of the readmission agreement with the EU.
Juncker pointed out however that the EU cannot ignore the problems that exist with human rights in Turkey as well as the issue of press freedom.
In general, Juncker described the meeting with Turkish Prime Minister as 'productive', noting that it has upgraded and renewed Turkey-EU relations.
From the Turkish side, Prime Minister Ahmed Davutoglu welcomed a "historic day where Turkey and the European Union met at a summit for the first time after 11 years" and appeared confident that the accession process will be accelerated. He specifically said that on December 14 will open chapter 17 on economic and monetary union.
As regards halting of refugee flows, Ahmet Davutoglu stressed that Turkey will take measures to combat the smuggling of refugees towards Europe. Asked if he can guarantee that Turkey will reduce migration flows towards Europe, Ahmet Davutoglu said he can't guarantee that, because this is something that will depend on the situation in Syria which is uncertain. "I can guarantee that Turkey will fulfill its commitments under the joint action plan", he added.
Finally, as regards the crisis in Syria, Ahmet Davutoglu reiterated Turkey's position in favour of the removal of Assad.