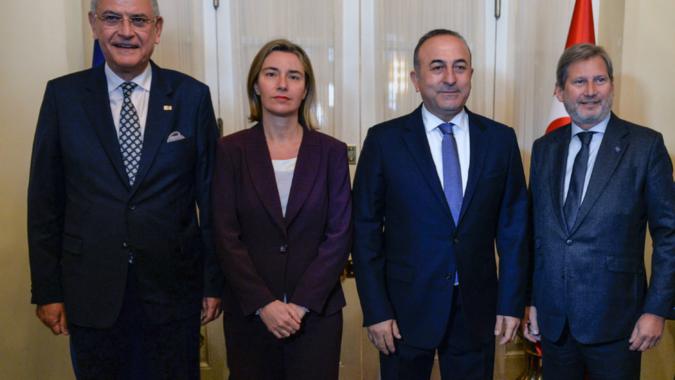 Dialogue between European Union and Turkey will continue
This would be the title, if it was to sum up the long talks between the two parts: EU High Representative Federica Mogherini and Commissioner Johannes Hahn met with the Minister of Foreign Affairs, Mevlüt Çavuşoğlu and the Minister for EU Affairs and Chief Negotiator of Turkey, Ömer Çelik today in Brussels with a very busy agenda that included: energy, security, counter terrorism, migration, trade, custom union, transportation and foreign relations.
As a quick review, Turkey insisted on opening the closed chapters for accession negotiations and undermined the importance or bilateral differences (meaning Cyprus-Turkey and Germany-Turkey). On the other side, EU stressed the fact that Turkey should respect the democracy, the fundamental rights, the freedom of the Press and the human rights activists.
As a highlight of the Press Conference after the meeting, Minister Cavousoglou argued against Cyprus, by "sighting" the High Representative, indicating to the press representatives that they would ask her to say "who was pro-productive and who was not productive in Crans-Montana". Minister Cavusoglou added that "the Greek Cypriot side was not productive" and stressed that it can no longer hold "hostage" Turkey's accession process and the evolution of the customs union. He also criticized EU countries for "solidarity" and "double standards" for EU Member States.
High Representative Mogherini did not comment on the question, but answered that "the EU is a family and the member states have solidarity with each other". Commissioner Johannes added that the accession chapters need unanimous decisions. He reminded the two Turkish ministers that the EU did not end the process and kept the communication channels open.
"The dialogue is about exchanging views, listening and talking to each other directly. We often have said that it is important discussing things between each other, more than talking about each other", Mogherini said. "There is a worrying pattern of imprisonments of members of the democratic opposition, journalists and human rights defenders in Turkey. We expect not only to hear, but to see concrete positive steps in the rule of law and fundamental freedoms and in bilateral relations between Turkey and EU member states", she added.
"During his last visit in Brussels, President Erdogan met the presidents of the three institutions and they agreed on a road map. Today, we have discussed about the implementation of this road map", Turkish Minister of Foreign Affairs said. As he stated, on the topics of Gulf crisis, Libya, Iraq and Syria we agree. Both parts want stability and peace in the region. The Foreign Minister responded to the criticism over Turkey's anti-terror operations, which include arresting journalists, academics and activists. "There is a difference between journalists that are doing their job well, with freedom, and others, supposed to be journalists that are supporting terrorists groups", he said.
About the EU-Turkey agreement on migration, both sides agreed that it works. ""I have no concerns of any kind regarding the upkeep of the refugee agreement. It works", Commissioner Johannes Hahn said./IBNA