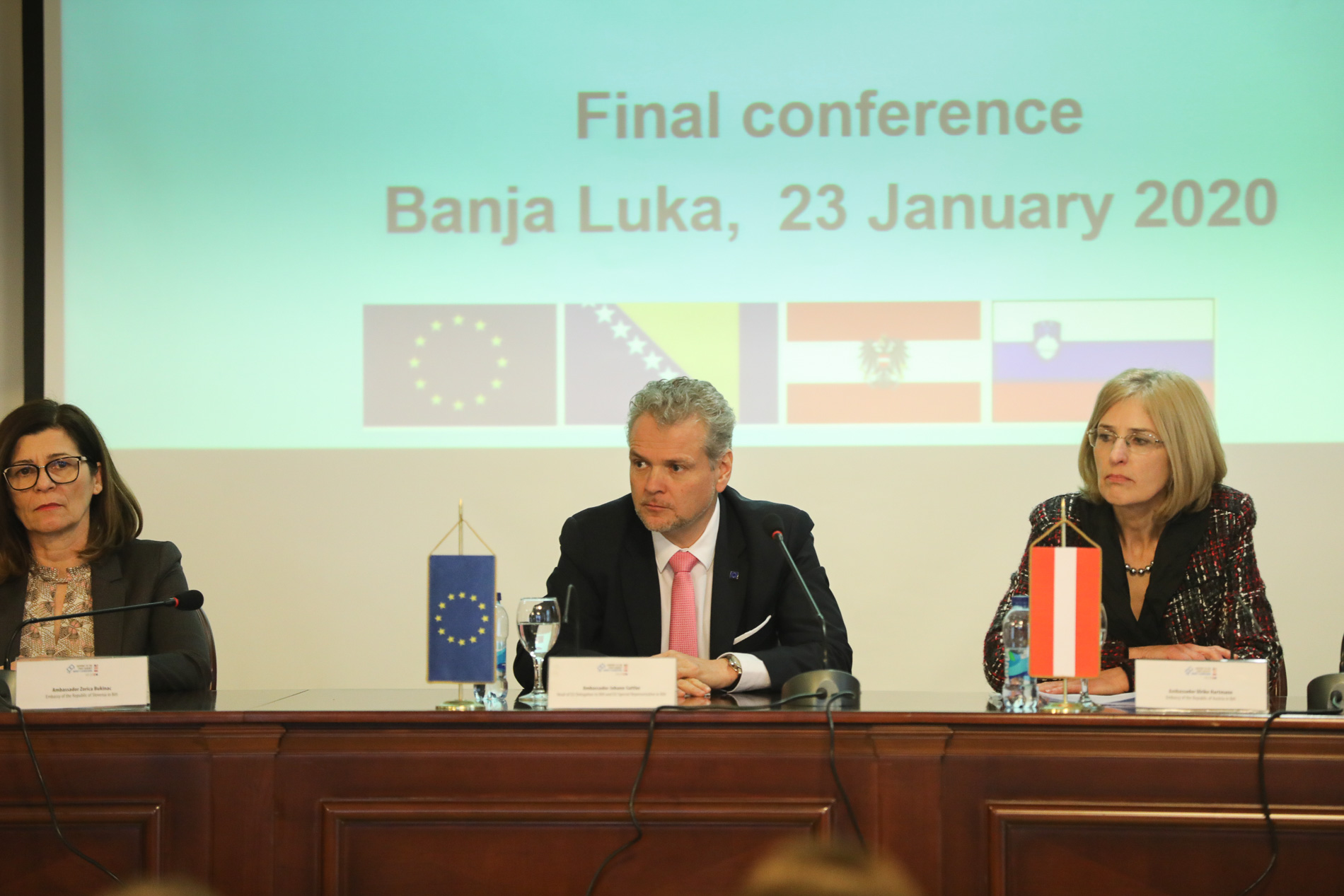 "The European Union continuously supports Bosnia and Herzegovina in strengthening the rule of law and the fight against organised crime. Through this project, we managed to transfer knowledge and know-how from our Member States, which is vital because money laundering is an important issue that does not stop at borders. However, we count on the authorities to assume responsibility in taking the reforms forward", remarked Ambassador Johann Sattler, Head of the Delegation of the European Union and EU Special Representative in BiH, at the final conference of the Twinning project "Support to the fight against money laundering".
Within this project, EU experts from Austria and Slovenia have supported Bosnia and Herzegovina's implementation of the 2018-2022 Action Plan for the Prevention of Money Laundering and Financing of Terrorist Activities in BiH. In addition, thanks to funds provided by the European Union, the State Investigation and Protection Agency has been equipped with analytical software and computer hardware for the Anti-Money Laundering System.
The ambassador of Austria to BiH Ulrike Hartmann and Ambassador of Slovenia to BiH Zorica Bukinac congratulated the stakeholders on the notable results achieved through this cooperation with respective institutions from EU Member States. Noting that money laundering is a transnational problem, the cooperation with local, regional and EU institutions is highly relevant. The ambassadors underlined that more than 2,600 local experts received training and education, and are now equipped to continue with the implementation of recommendations to strengthen the sector.
The EU Delegation to BiH, in a statement emphasized that the Twinning project, worth EUR 2 million, is part of overall assistance of the European Union to strengthening of the rule of law and combating serious crime in Bosnia and Herzegovina. As noted in the recent Expert Report on the rule of law in BiH by the group of independent experts led by Mr Priebe, the European Union calls for improvements to the use of special investigative measures, and recovery and confiscation of illegal assets, which would support the relevant institutions in improving the functioning of the rule of law in Bosnia and Herzegovina./ibna