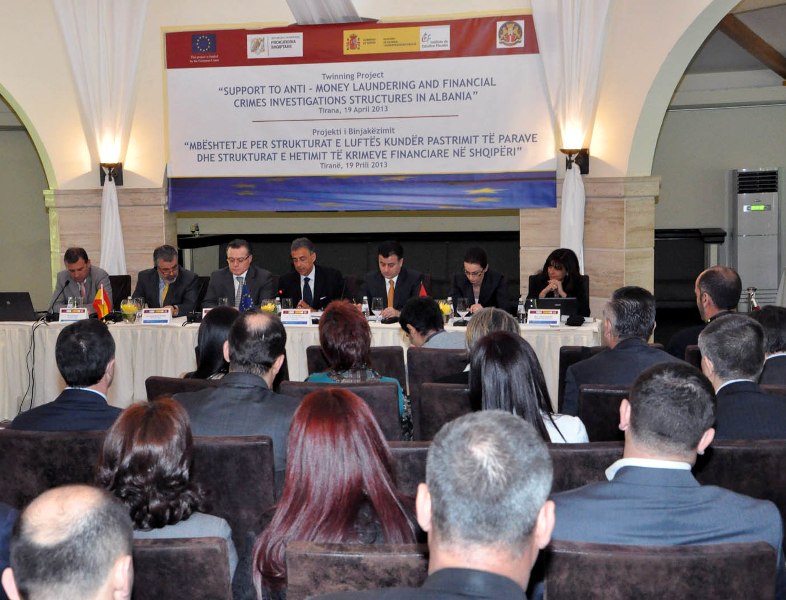 Tirana, April 19, 2013
A 24 month-long project in support of Albania's fight against Money Laundering, funded by the European Union with €1.5 million, has come to a successful end. The project has brought EU know-how from the Spanish Institute of Fiscal Studies and the Bulgarian Financial Intelligence Department, to assist the Albanian authorities in improving enforcement of the Anti-Mafia Law and related laws.
The project offered the expertise of Member States in detection, investigation and prosecution of money laundering, in the confiscation and administration of assets of crime, and in effective coordination between law enforcement agencies.
The EU-funded Project was tailor made to the needs of Albania, focusing on strengthening law enforcement, and a manual on the ways on how to conduct money laundering investigations was presented. The number of convictions for money laundering remains very low; therefore, police and cooperation between the judicial actors is essential in the fight against money laundering.
During the closing ceremony, the Head of the European Union Delegation to Albania, H.E. Ambassador Ettore Sequi noted that: "Albania has in place a solid and modern legal framework in accordance with EU standards, but often laws are not duly implemented. The anti-mafia law should be amended and correctly implemented in view not only to seize but also to confiscate assets and therefore recover huge amounts of money that, being generated as a result of illicit activity, can be used by the Government, and can be by doing so, be restored to the civil society".
Ambassador Sequi also stressed that: "every effort will be pointless if the Albanian Authorities will not ensure the stability in the workplace and guarantee that professionals working in the prevention and punishment of money laundering and economic crimes should be better rewarded both economically and professionally".
Ambassador Sequi went on to emphasize the need of cooperation between all stakeholders. "Considering that money laundering is constantly based on new techniques to better hide the different steps of this offence, police and judicial corporation have to be deepened", concluded Ambassador Sequi. /ibna/