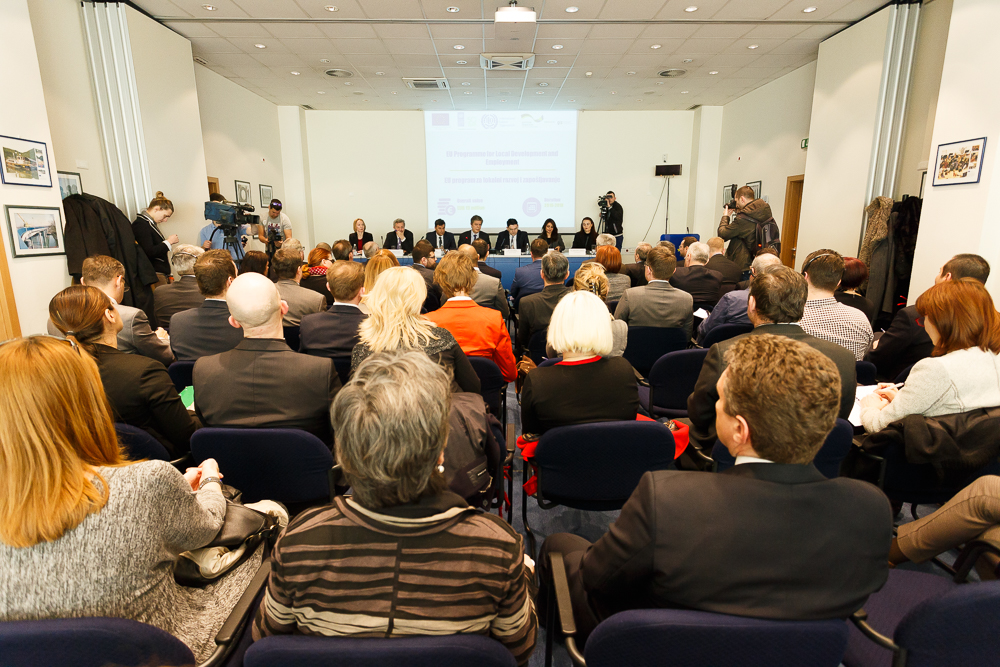 Sarajevo, March 17, 2016/Independent Balkan News Agency
By Mladen Dragojlovic
New EU program for local development and employment was presented on Thursday in Sarajevo by representatives of EU delegation in BiH, International labour organization, UNDP, German association for international cooperation and representatives of governments in BiH.
The aim of this new program is focused at improvement of  living standards, providing employment opportunities and improving the quality of life in areas with a high proportion of refugees, returnees and internally displaced persons, but especially in areas affected by the floods in May 2014. Head of the EU Delegation to BiH Lars Gunnar Wigemark said at the ceremony that this project relies on the EU Programme for recovery from floods, which, according to results published in February, have a positive impact on the lives of more than 610,000 people endangered by floods in BiH.
"I think we learned very important lessons during the implementation of the Programme for recovery from floods, primarily in terms of support to be provided to small and medium-sized enterprises. Small and medium enterprises are restarting activity in the labor market and provide employment in local communities", said Wigemark.
He added that the essence of the program is to enable the opening of more jobs, providing better jobs in local communities severely affected by the floods, as well as in areas with internally displaced persons, refugees and other vulnerable groups.
Deputy of the Resident UNDP Coordinator in BiH, Zahira Virani, said that UNDP, as one of the partners of the program, specifically works on components that concerns local integrated development. She added that, in the framework of these activities, this organization will use the successful experience and results achieved through Programme for recovery from floods.
"We plan activities in 20 local governments, which will be selected on the basis of competitive public calls, and provides support for 30 small and medium-sized enterprises, in order to maintain and create new jobs", Viranij said.
She emphasized that the current value of the components carried out by UNDP is 6.6 million Euro, and they expect a financial contribution from local governments, entity and other levels of government the current amount.
The EU Programme for recovery from floods was launched in August 2014 and was completed on February 29 this year. Within the program, houses for more than 16.240 people have been reconstructed and 156 schools, 12 kindergartens, six health institutions, four centers for social work, three municipal buildings were equipped. More successful projects were conducted in transportation area where many roads, 114 bridges and 31 facilities for water supply and sanitation were reconstructed.