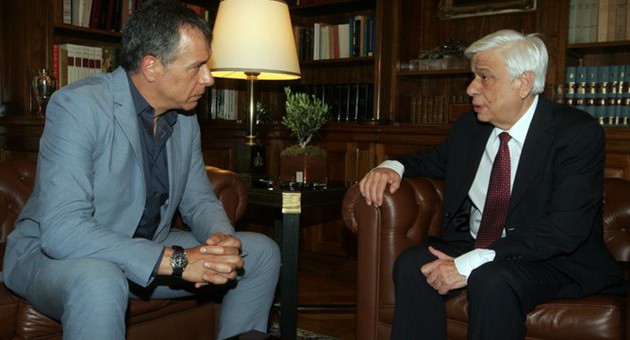 Athens, August 13, 2015/ Independent Balkan News Agency
By Spiros Sideris
To the need for immediate convergence of the European Union summit on the issue of refugee and migration flows referred the Greek President Prokopis Pavlopoulos, who hosted at noon Wednesday at the Presidential Palace the head of The River Stavros Theodorakis.
"It is a paradox that Europe and the United Nations, have not yet decided on what is happening in the Middle East and particularly in Syria" Pavlopoulos said, noting that as long as the fires of war continue the phenomenon will be multiplied. "It takes for foreign policy both on the European side and the side of the international community and in particular by the United Nations", stressed the President of the Republic.
According to Pavlopoulos, there should be an immediate summit on what are the obligations of Europe and a consultation of the European Union with the UN. "It is not fit for Europe today, in front of this double phenomenon of security and humanitarian, to act as Pontius Pilate and an ostrich," Pavlopoulos noted.
Theodorakis described as a major national issue the problem of migration and refugees. As he noted, "even if we did everything right in Greece, we could still not deal with these large refugee and migratory flows".
According to Theodorakis, Europe "has to find solutions for refugees and other solutions to migration. If we do not work with the countries of origin and with Turkey, which is the last stop before getting on the boats, I think things will become even more difficult", said the head of The River, who asked the help of the President of the Republic in this.
Chrysovelonis: A political solution must promptly be sought on the wave of refugees
The EU must seek a political solution, and the revision of the Dublin II Treaty asks the representative of Independent Greeks Chrysovelonis in a statement on the migratory wave in the Aegean islands.
"The unprecedented wave of refugees and migrants that overwhelms the Aegean islands and the other Member – States of the EU Mediterranean (Italy – Spain) reveals a double tragedy: firstly that of refugees who have just escaped from the theater of lethal conflicts and also that of the host countries, which no matter how much they exceed any care and accommodation possibilities they have, they are still unable to cope with the imminent humanitarian crisis", Chrysovelonis notes.
"The extreme conditions experienced by both refugees and the host countries make it more necessary than ever, both to seek an immediate political solution to the promotion and hosting of refugees to other EU member states and secondly, the revision of the Dublin II Treaty, which has long become outdated and unrealistic".