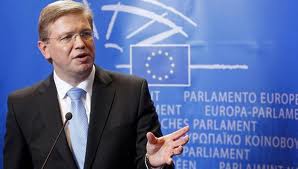 By Miloš Mitrović – Belgrade
"European Union negotiating frame for the accession talks with Serbia is almost accomplished", EU Enlargement Commissioner Štefan Füle revealed. Füle expects that the screening process with regard to negotiations would start immediately after the summer break in the EU institutions, Serbian media reported on Tuesday.
European Commission (EC) will deliver the negotiating frame draft to its authorized offices for the purpose of the consultations later on Tuesday. "EC`s intention is to deliver the draft before the summer break", Füle said at the European Parliament Foreign Affairs Committee session, Serbian Broadcasting Corporation (RTS) reported.
Füle stressed that the so-called process of screening – "consideration of the situation" before the start of the talks – would start soon after the summer pause.
Jost Korte, Deputy Director General for Enlargement in the European Commission, would discuss the screening process preparations with Serbian officials during his visit to Belgrade next week, Füle announced. Jost Korte succeeded Stefano Sannino at the current position. Sannino is now head of the Italian delegation to the EU.
Štefan Füle will visit Belgrade later this month.
"Brussels had rewarded Belgrade with a carrot that still did not sprouted up", Slovenian daily Delo stated in the comment on the promised EU-Serbia negotiations start, adding "in order the carrot to be suitable for the soup, it should be watered orderly".
Although the EU Council in its conclusion considering Serbian accession process does not state additional preconditions, "EU leaders have no intention to signal the green light" for the talks without the adequate implementation of the Brussels agreement between Belgrade and Priština, Delo stressed. "Rewarding Belgrade is not in the interest of Germany yet". Berlin is reserved despite the efforts of the Serbian officials with regard to resolve the problems with Priština, Delo reported.
"Sooner or later Belgrade will have to accept the fact that Pristina will control its own courtyard, regardless whether it will recognize Kosovo`s independence implicitly or explicitly", Slovenian daily concluded.
"The preconditions that German parliament demands from Serbia would be difficult to fulfill", Serbian President Tomislav Nikolić said in the interview for the Croatian Broadcasting Corporation (HRT) on Monday. Nikolić reiterated, "Serbia will never recognize the independence of Kosovo.