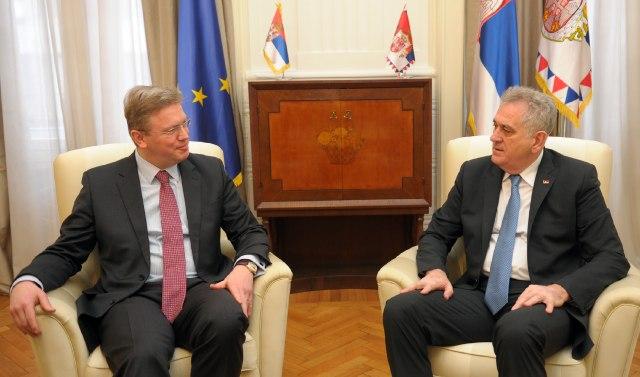 By Miloš Mitrović – Belgrade
Serbia had accelerated its reform agenda towards the integration into the European Union, President Tomislav Nikolić said after the meeting with the EU enlargement commissioner Stefan Fule on Thursday. Nikolić called on Serbian Government to appoint the chief negotiator with the EU immediately. The accession negotiations – as it was decided by the EU Council at the summit in June – should start "at the latest" in January 2014.
Earlier this month Serbian officials had announced that the chief negotiator would be appointed until the end of last week. However, this was not the case allegedly because of the government reshuffle talks among the leaders of the ruling coalition.
"I believe that the first intergovernmental conference EU-Serbia (the start of the accession negotiations) will be held in January. Serbia had demonstrated its willingness to resolve the problems", Nikolić said.
He specified that Serbia had fulfilled its commitments stated in the Brussels agreement about the normalization of the relations with Priština such as implementing the freedom of movement in the north of Kosovo and resolving the energy and telecommunication issues. Nikolić expects that Serbia would get from the EU "the precise list of tasks" by the end of September.
"These steps include the continuation of reform process, the implementation of the Brussels agreement and the promotion of the regional reconciliation", Serbian president explained adding that "Serbia is the initiator and the key factor" with regard to regional stability.
During the accession negotiations European Union would focus its attention to chapters, 23 and 24, which deal with the judiciary and fundamental rights, justice, freedom and security, the fight against corruption and organized crime, Nikolić said. "The issue of Kosovo and Metohija will be discussed under chapter 35, which deals with the other issues".
Serbian opposition parties as well as the Church and the representatives of the Serbs from the north of Kosovo had criticized the Government because of its acceptance of Kosovo issue to be tackled during the accession talks.
"My message to commissioner Fule is that the citizens of Serbia should immediately perceive the benefits of the accession talks start", Nikolić stressed.
Stefan Fule reiterated both that the frame of the accession talks "is to be presented to the EU member states" and that the screening process with regard to the negotiating chapters would start in September. "I expect that Serbia will continue to contribute to regional cooperation and reconciliation. I am encouraged by the determination of the Serbian president to keep this positive approach.
Earlier on Thursday Fule said that the EU expects from Serbia "comprehensive reform", rather than the formal one. In his speech at the Serbian Parliament Fule stressed that "Serbia has to make the next step towards the visible and sustainable improvement of the relations with Kosovo".