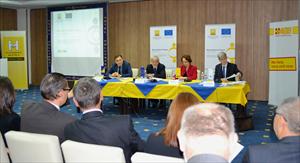 By Medina Malagić – Sarajevo
An EU conference took place today called 'Action Roma-Support for Social Economic Inclusion of Roma Population in B&H, through the provision of housing, socio-economic measures with proactive involvement of local authorities and other interested groups" was held in Sarajevo today.
The conference marked the official start of this project, which will be implemented over a period of 22 months in 14 municipalities throughout B&H.
Those in attendance at the conference today who provided opening remarks were Deputy Head of the EU Delegation to B&H Renzo Daviddi, UNHCR representative to B&H Andrew Mayne, Director of Hilfswerk Austria International for B&H Suzana Jašarević and B&H Minister for Human Rights and Refugees Damir Ljubić.
A project of such magnitude is the first such project that will be implemented in B&H for the purposes of providing housing for Roma families, whose purpose is to help them achieve greater economic inclusion in B&H and to improve living conditions for this socially disadvantaged group in B&H.
"This project is devoted to the general social progress and economic inclusion of Roma. The project is being implemented all over Europe, including the countries of the Western Balkans. This type of inclusion is very important for the EU and certainly the priority is to improve the living conditions of Roma. This is a really important area for the EU. The plan is also to organize another conference early next year, where we will basically analyze the progress made in the last year and a half in BiH" said Dr. Renzo Daviddi, Deputy Head of the Delegation of the European Union to Bosnia and Herzegovina.
This project will be implemented in the following municipalities: Tuzla, Lukavac, Gracanica, Novo Sarajevo, Novi Grad, Centar Sarajevo, Zenica, Bihac, Krupa, Gornji Vakuf/Uskoplje, Vukosavlje, Zvornik and Bijeljina.
Hilfswerk Austria International is the implementor of the project in parntership with Arbeiter-Samariter-Bund Deutschland e.V. (ASB) and Kali Sara-Crna Sara Association for the amount of 3 million Euros, of which most is provided by EU funds.
Hilfswerk Austria International made a model of social housing that will be applied to the 'Action Roma' project.