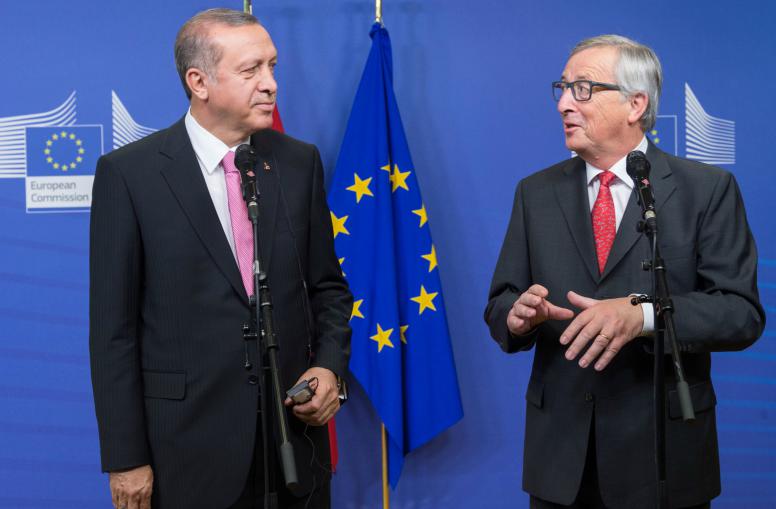 Brussels, October 6, 2015/ Independent Balkan News Agency
By Manolis Kostidis
Erdogan freezes plan for neutral zone within Syria
Common border control, strengthening of FRONTEX included in new measures
Recep Tayip Erdogan concluded his meetings with European Parliament president Martin Schulz, European Commission president Jean Claude Juncker and European Council president Donald Tusk and it seems that the two sides will reach an immediate agreement to tackle the refugee issue.
WHAT EUROPEANS REQUEST
According to sources, European stressed to the Turkish president the implementation of the agreement to return immigrants as well as the creation of large camps in Turkey that will be funded by EU funds.
Europeans request better patrolling of the Greece-Turkey sea border under the supervision of Frontex.
Turkey hosts about 2 million refugees from Syria.
"While we host two million refugees, Europe as a whole is home to fewer than 250,000 refugees in total," said Erdogan.
WHAT ANKARA WANTS FROM EUROPEANS
Sources indicate that Erdogan requested the lifting of the Schengen visa that applies to Turkish citizens nut he also pushed for the creation of a neutral zone within Syria for hospitality to refugees. Ankara requests funding from Europe for Turkish construction companies to build cities for refugees within Syria.
JUNCKER REVEALS MoU WITH TURKEY
Addressing the "refugee humanitarian situation" within the EU and neighboring countries was at the epicenter of talks at the morning plenary of the European Parliament.
The Commission president spoke of his meeting with the Turkish president and stressed that "Europe will do all it can to support the outstanding efforts of the Republic of Turkey. We cannot just look at our interior but we must also look to the periphery of Europe".
He also mentioned that he submitted a plan for a "MoU" between Turkey and the European Union to resolve the refugee issue. The relevant discussion with the Turkish delegation will take place on Tuesday evening.
Finally he said that there talks with Athens too while he expects executives to be sent to turkey for talks on the details of the agreement he believes will be reached.
"We need to politicize, in the noble sense of the term, the debate between the European Union and Turkey".
"All these actions have a cost", he said and questioned whether the money spent by a country to manage the problem of refugees, should be excluded from the calculation of the Stability and Growth Pact.
Juncker explained that the Commission has up to 600 employees to allocate to support Greece in the protection of its external borders.
"This means we will develop a big network or partners and personnel in Greece. Essentially we are doubling the number of staff employed in so-called general area arrangement, that is the interior and justice" he stressed.