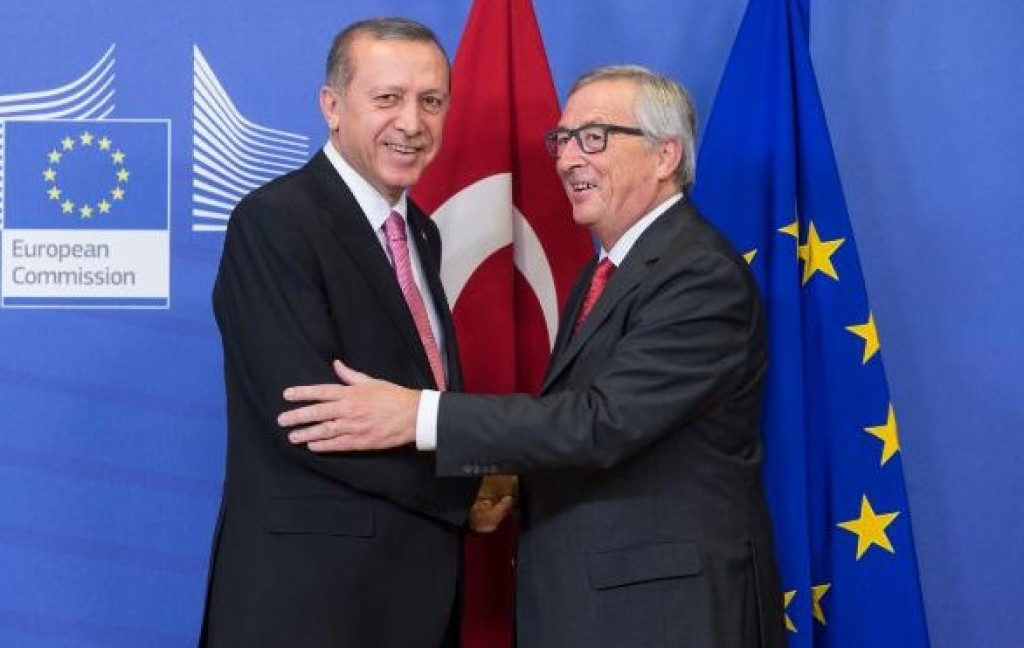 Brussels, October 7, 2015/ Independent Balkan News Agency
By Manolis Kostidis
Erdogan freezes plan for neutral zone within Syria
Tusk speaks of neutral zone plan
Common borders control, strengthening of FRONTEX included in new measures
The European Union is preparing a Memorandum of Understanding with Turkey in order to address the refugee issue.
Among the MoU terms, the possibility of joint patrols of the Turkish Coast Guard with the Greek Coast Guard in areas with large immigrant flows in being discussed, such as off Kos and Lesvos. The plan is reportedly coordinated by FRONTEX without Greek sovereignty in the Aegean been cleared yet. Sources indicate that Turkey is open to potential cooperation.
The decision on cooperation with Turkey was taken following meetings between European Commission president Jean Claude Juncker, European Parliament president Martin Schultz and European Council president Donald Tusk with Turkish president Recep Tayip Erdogan in Brussels. The details of how the issue will be dealt with will be defined after Greek positions have been considered.
Juncker tells European Parliament: "Turkey and the EU must walk this path together". "Greece is our priority"
Addressing the "refugee humanitarian situation" within the EU and neighboring countries was at the epicenter of talks at the morning plenary of the European Parliament. After clarifying that "the European Commission is focusing on Greece in order to address the refugee crisis", the European Commission president heralded a "Memorandum of Cooperation between the EU and Turkey" on the same subject. The Commission president spoke of his meeting with the Turkish president and stressed that "Europe will do all it can to support the outstanding efforts of the Republic of Turkey. We cannot just look at our interior but we must also look to the periphery of Europe".
He also mentioned that he submitted a plan for a "MoU" between Turkey and the European Union to resolve the refugee issue. The relevant discussion with the Turkish delegation will take place on Tuesday evening.
"We can't just look on. We must make sure that we examine the issues facing the periphery of Europe. Turkey and the EU must walk this path together. We must deal with providing help to the unfortunate people that come tomour shores" the European Commission president said.