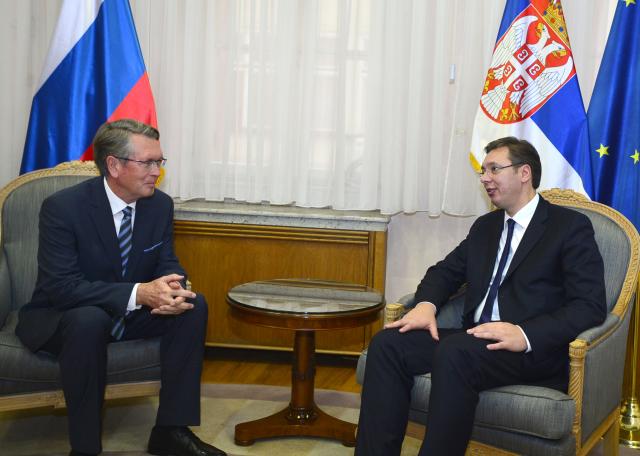 Serbia is on the European path, but this must not, will not, and cannot spoil the country's very good relations with Russia, says President Aleksandar Vucic.
Vucic met with Russian Ambassador Aleksandr Chepurin to discuss "concrete projects of cooperation, with the emphasis on Serbia and Russia being ready to maintain a continuous political dialogue that contributes to the development of overall relations to mutual benefit," a presidential press service statement said.
The interlocutors noted that good political relations should be turned into better economic relations, as there are great opportunities in different areas of economy.
They "expressed a shared opinion that economic cooperation needs to be strengthened in the fields of agriculture, automotive and industry, as well as in the field of information technology."
It was agreed that co-chairs of the Mixed Committee on Cooperation will meet in September in Moscow, and again in Belgrade in November.
Vucic and Chepurin "agreed that relations between the two countries are characterized by a strategic depth that cannot be spoiled easily."
"Serbia is on the European path, but that must not, will not and cannot disrupt the very good relations with Russia. Serbia will not change such a clear and principled foreign policy, which testifies to Serbia as an independent and sovereign state that is guided by its interests and respects the friendly relations built over many years," said Vucic.
The president also "emphasized that precisely such a stance has brought greater reputation and respect in the world to Serbia," the statement concluded./IBNA
Source: B92