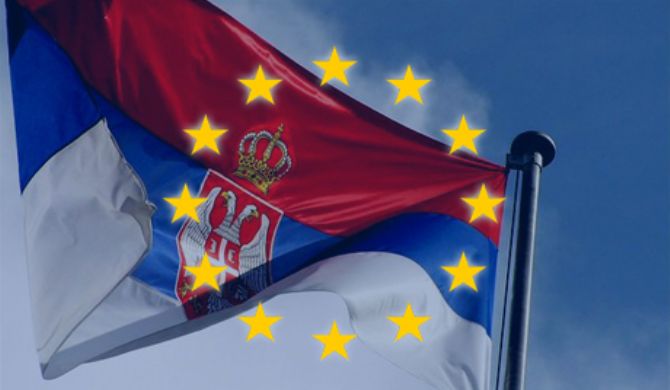 Belgrade, December 14, 2015/Independent Balkan News Agency
By Milos Mitrovic
Almost two years since the accession negotiations of Serbia and European Union have been formally launched, EU is to open two of the 35 chapters in talks with Belgrade. The process that is expected to last at least seven years will start in the evening in Brussels with the opening of chapters 35 and 32. The first refers to normalization of the relations between Belgrade and Pristina, while the later tackles financial control.
The start of the negotiations would make Serbia more stable, more integrated with the EU and more attractive for the foreign investments, Union's Enlargement Commissioner Johannes Hahn said.
According to Serbian Prime Minister Aleksandar Vucic, "the most revolutionary day in the history of Serbia" has come. In Vucic's words, Serbia was waiting for this day for two hundred years, since the uprising against the Ottoman Empire erupted in Serbia in the beginning of 19 century.
At the same time, President Tomislav Nikolic doesn't think there's place for euphoria over the kick of the talks. "Serbia has deserved this a long time ago, it has fulfilled many tough conditions while it couldn't see the light in the end of the tunnel", Nikolic told Kurir daily. He considers the opening of the chapters as symbolical step which means that Serbia "is still in European course from the EU perspective".
Although he is skeptical because "somebody in Europe may say we are not desirable", Nikolic kept a sense of optimism. "Still, I think this is an encouraging move".
Today's intergovernmental conference – the meeting at which the chapters would be opened – represents only the formalisation of the fact that Serbia was ready for the talks, Jadranka Joksimovic, Serbian minister in charge for the EU said.
"We have officially opened the negotiations as early as two years ago, but this is an important step, this is a more profound and dynamic phase of talks, the fundamental phase", she said in the interview for RTS.
"Thank God that the chapters will be opened. Serbia deserves it", Austrian Foreign Minister Sebastian Kurz said in Brussels today.