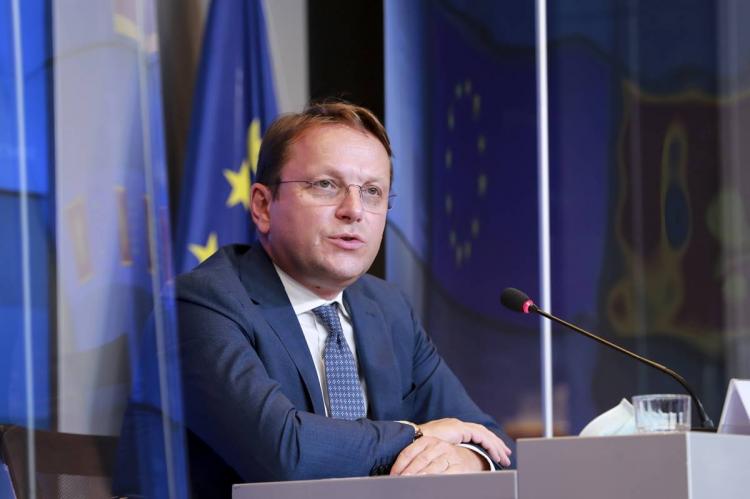 The overarching priority for Montenegro is to fulfil interim benchmarks set out in the rule of law chapters, European Commissioner for Neighbourhood and Enlargement Oliver Varhelyi said at the press conference following the EU-Montenegro Intergovernmental Conference, held on 22 June 2021 in Luxembourg.
"I was pleased to hear, from the Prime Minister, Montenegro's commitment to achieving this objective and a very detailed plan to address the outstanding issues on both of the rules of law chapters. It is now key for all political actors in Montenegro – be it Government, Parliament and the judiciary – to turn this commitment into tangible results. This is key for progressing further in the accession process, an objective supported by the overwhelming majority of the Montenegrin people," Varhelyi said.
On behalf of the Portuguese EU Presidency, Portugal's Secretary of State for European Affairs Ana Paula Zacharias said that the IGC was very important to strengthen the dialogue between the EU Member States and Montenegro with the aim to help focus efforts on the key reforms needed.
"The EU welcomed the efforts made by Montenegro, the most advanced country in the accession process. We noted that the advancement of the negotiations will continue to be guided by Montenegro's progress in preparation for accession," Zacarias said.
Prime Minister Zdravko Krivokapić noted that Montenegro is the frontrunner on the EU accession path, underlining that, at the intergovernmental conference, Montenegro's officials received assurances that this would be a merit-based process. He said that, if it wants to speed up the accession process, Montenegro must reach a national consensus on key issues. Prime Minister had a meeting with EU High Representative for Foreign Affairs and Security Policy and the European Commission's Vice President Josep Borrell.
Krivokapić said that the Intergovernmental Conference between Montenegro and the EU has given a strong impetus to the enlargement policy. The Prime Minister pledged the government's commitment to implementing all the required reforms and becoming the next EU member state.
Borrell was quoted by the government as commending Montenegro's clear geostrategic course.
"While welcoming Montenegro's undeniable efforts in the rule of law reform, Borrell agreed that more clarity is needed in terms of the remaining criteria for chapters 23 and 24, accompanied by greater tangibility and credibility of the accession process," the press release said.
This is the first EU-Montenegro Intergovernmental Conference within the new methodology of the European Commission (EC) in the accession negotiations between Brussels and Podgorica.