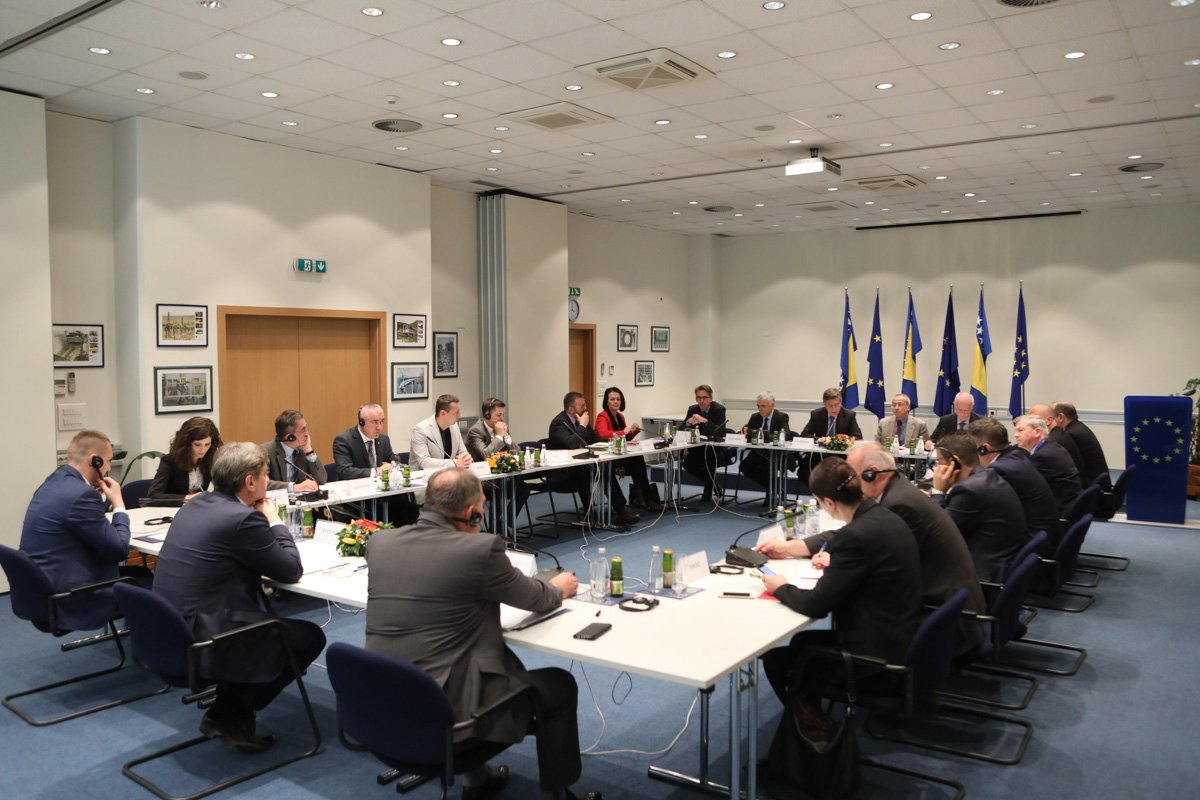 EU Senior Mission led by Counter-Terrorism Coordinator Gilles De Kerchove visited on Monday BiH to hold the meetings with state officials on all levels of government and to discuss important security issues.
Sharing of information suspicious to be linked to terrorism, reduction of radicalization in prisons, as well as search for mechanisms to remove content on the Internet that can radicalise young people are some of the measures in the fight against terrorism and radicalization, was conclusion of Monday meeting.
EU representatives emphasized that, for the EU, it is extremely important to strengthen the partnership and cooperation with BiH in the fight against terrorism.
"There are three reasons for this. The first is that BiH seeks the status of candidate country to the EU accession process, and when it receives a status laws must be harmonized with EU. Another reason is the possibility of visa-free regime for citizens of BiH in the Schengen countries. The third reason is that state is just as vulnerable as the EU countries in terms of terrorist threats", said Gilles de Kerchove on the press conference on Monday late in the afternoon.
He pointed out that BiH and the EU must be ready for the return of soldiers who participated in the wars in Iraq and Syria, and work much more in terms of prevention of radicalization through the Internet and in prisons. At the meeting, participants discussed the exchange of information among law enforcement agencies in connection with persons who can be associated with terrorism in order to prevent them to cross borders.
De Kerchove stressed that, in the next few weeks, several meetings will take a place to discuss better cooperation of BiH institutions with Europol and Eurojust. Head of the EU Delegation to BiH Lars-Gunnar Wigemark stressed that the fight against terrorism and radicalization should have a regional approach on the Western Balkans, emphasizing the importance of the issue of security and the rule of law in the process of European integration.
He noted that part of the Questionnaire of the European Commission is related with the fight against terrorism and radicalism, and that big part of it is dedicated to the rule of law within a document called Reform Agenda, which should do much more in the direction of identifying threats.
Chairman of the BiH Council of Ministers, Denis Zvizdic, expressed a clear commitment of all BiH institutions in the fight against terrorism and extremism, noting that the state has adopted a strategy on the fight against terrorism and Action plan for its implementation. Zvizdic said that there are some unfounded statements on terrorism and return of fighters from foreign battlefields, adding that the State Prosecution is doing a good job. He pointed out that BiH doesn't have the candidate status for membership in the EU and therefore its representatives do not attend meetings within the EU where they talk about terrorism./IBNA