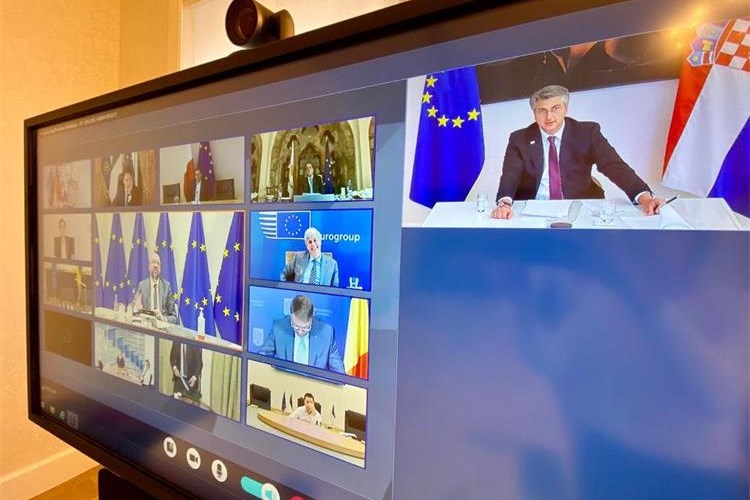 EU member states will hold an online conference with the leaders of six Western Balkan countries on May 6, the Croatian government announced on Thursday, after the video conference of the European Council members.
On the initiative of Croatian Prime Minister Andrej Plenković, leaders agreed that the EU-Western Balkans summit (Zagreb Summit) will be held via video conference on 6 May, in the full configuration of all EU Member States, and the 6 Western Balkan countries, the Croatian Presidency of the Council of the European Union says on its web site.
The EU-Western Balkans meeting was earlier planned to be held in Zagreb on May 6-7 but it could not be physically organised due to restrictions introduced over the coronavirus pandemic.
"Croatia recognized early on the seriousness of the coronavirus situation and as the country presiding over the Council of the EU it organized a series of ministerial video conferences of EU Member States to exchange views in different areas, especially health care, and to find appropriate solutions to all aspects of the crisis," according to the information published in the web site of the Croatian EU Presidency.
During the fourth video conference of the European Council, leaders welcomed a European roadmap towards lifting COVID-19 containment measures, presented by European Council President Charles Michel and European Commission President Ursula von der Leyen on 15 April.
Prime Minister Andrej Plenković welcomed progress in the joint procurement of medical equipment, which is key to dealing with the pandemic and finding a permanent procurement mechanism to meet growing needs.
Plenković informed about "containment measures at a national level, their phase-out plan, as well as the economic and social consequences of the coronavirus pandemic, to which the Croatian Government responded vigorously with a goal to retain jobs and support the economy."
Considering the importance of tourism for the economy of many member states, the Croatian premier "has proposed joint steps aimed at opening borders to tourists in line with epidemiological recommendations, which will be discussed at the Council of Ministers dedicated to tourism."
On the subject of the Recovery Plan and the Multiannual Financial Framework, Plenković "has advocated a revised seven-year European budget that can meet all the challenges of the crisis and become a key instrument for Member States' economic recovery, especially in the next few years".
Source: Croatian Government