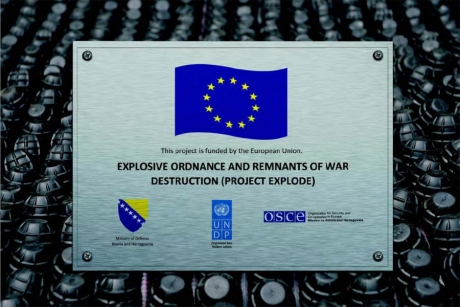 By Mladen Dragojlovic – Banja Luka
The delegation of the European union to BiH announced on Tuesday that the country received an additional EUR 767,000 for assistance to local communities affected by floods in May this year. This fund is allocated from the Instrument for Stability fund to the Project EXPLODE.
"Explosive Ordnance and Remnants of War Destruction" (EXPLODE) project was designed and established to develop and conduct military logistics operations and to support the efforts of the BiH Ministry of Defense in management processes for surplus ammunition and explosive ordnances, as well as to prevent uncontrolled explosions of old and unstable ammunition that may have far-reaching consequences on the security of the citizens of BiH. The project is funded by the European Union under the Instrument for Stability (IFS) in the amount of EUR 4,604,830. Over the period of 36 months, the project is implemented in partnership with the Ministry of Defense of Bosnia and Herzegovina, the United Nations Development Programme and the OSCE Mission to BiH.
"The funds will be used to support the Demining Battalion of the BiH Ministry of Defense as the key project partner in landslide remediation in the military facility TROM, Doboj and in the removal of explosive ordnance and remnants of war from the Suspected Hazardous Areas impacted by floods. The May 2014 floods were potentially the most serious natural disaster in BiH in the past 120 years, causing damage to more than 40,000 dwellings and affecting more than one million people", said the EU Delegation in announcement.
According to them, one significant security hazard is linked to the fact that over 70% of the flood-affected areas are contaminated by mines which, due to floods and landslides, had migrated, in addition to mine warning signs and fencing that were washed away. EU Delegation emphasized that the Floods Recovery Needs Assessment on Mine Action outlines the importance of wider involvement of national stakeholders in mine action in order to improve the country's ability to respond to crisis.
"Project EXPLODE will also ensure that the governments' untapped mine action capacities are appropriately utilized, which will bring progress in the recovery and post-recovery mine action, landslide remediation and disposal of unsafe military ammunition stockpile processes", was mentioned in the statement.
It was also said that these activities will complement the EU post-floods recovery agenda and UNDP's mine action governance programme.