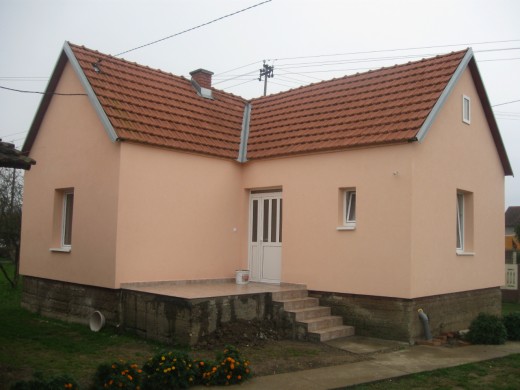 Banja Luka, January 14, 2015/ Independent Balkan News Agency
By Mladen Dragojlovic
The European Union Floods Recovery Programme finished its first phase of help to citizens in BiH, who have suffered destruction in last year's floods. Last weekend EU finished the recovery of 1,000 homess in various areas in the state.
As it was announced from EU delegation in BiH, the first phase focused on assisting the most vulnerable flood victims to return home. The beneficiaries of the first phase included families who resided in collective accommodation facilities, families living below the poverty line, senior citizens and persons with disabilities. In the announcement, EU emphasised that the housing rehabilitation works under the Programme were launched in September 2014 and originally the objective was to rehabilitate 600 homes by the end of the year.
"However, the pace of the works was accelerated during the autumn as it became clear that more vulnerable families were in need of rehabilitation assistance ahead of winter. In many cases the rehabilitation process has been far from simple due to the extensive damage caused by the floodwaters. Walls needed to be properly dried and refurbished; new floorings and indoor and outdoor carpentries installed; and roofs and facades repaired to protect the homes from the rain and snowfall. The Programme has contracted a large number of construction firms across the flooded areas to implement the rehabilitation works", announced EU Delegation.
In addition to the 1,000 homes completed already, 3,000 additional homes are currently being selected for rehabilitation from the applicants who responded to the two public calls in late 2014. The selection and verification process has now been completed for nearly 1,000 units, while the selection of the remaining 2,000 beneficiaries is ongoing. Tendering procedure will be launched shortly for contractors to implement the rehabilitation works on the selected 1,000 units,  focusing on the municipalities of Banja Luka, Bijeljina, Šamac, Doboj, Maglaj, Orašje, Odžak, Tuzla, and Domaljevac.
"The selection and verification process of applications is designed to ensure transparency and adherence to the selection criteria, as well as to avoid overlapping with other donors' activities. We therefore closely cooperate with the relevant local authorities and will continue to do so until the end of the process", said Edis Arifagić, UNDP Programme Manager for the EU Floods Recovery Programme.
This assistance is a part of the funds that the European Union pledged at the donor conference in Brussels in July 2014. Activities are focused on rehabilitation of up to 4,000 housing units for approximately 14,000 residents, and key public services and infrastructure (including schools, medical facilities, water supply and sewer, and smaller roads and bridges) at 50 sites, as well as providing assistance to retain and generate around 2,000 jobs in flood-affected areas.