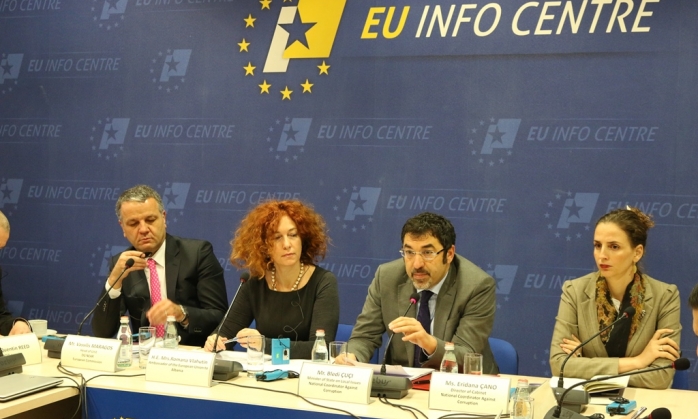 Tirana, January 29, 2015/Independent Balkan News Agency
The European Delegation to Albania presented today the findings and recommendations of the EU project "Assessment of the Anti-corruption Framework in Albania" (ACFA), which will help the country to launch a serious process of reform, with clear, concrete and verifiable targets, essential to the accountability towards all Albanian citizens. The project assessed the legal and institutional framework in place for the prevention and fight against corruption in Albania, such as access to public information, political party funding, whistle-blowing, asset declarations by public officials, conflict of interest regulation, investigation, prosecution and adjudication of corruption, and fight against corruption in the judiciary.
ACFA has made a series of detailed recommendations for Albanian policy makers and state institutions to tackle seriously the identified gaps, in order to strengthen corruption prevention measures and boost the fight against corruption.  These recommendations include amendment of legislation on conflict of interest, asset declaration, and the law on the Prosecutor's General office.  A total of 68 recommendations were made on the mechanism of governance, jurisdiction and good judicial conduct in the area of investigation, prosecution and adjudication of corruption-related offences.
The workshop (photo) was attended by the Head of the EU Delegation to Albania, Ambassador Romana Vlahutin, the Head of Unit for Albania at the European Commission's DG NEAR (Neighborhood and Enlargement Negotiations), Vassilis Maragos, Albania's Minister of State on Local Issues and National Coordinator Against Corruption, Bledi Çuçi, and from representatives of all relevant institutions as well as from local and international partners.
"Corruption is criminal and immoral. It is theft from all of you, from each and every Albanian citizen. Those who exploit the public's trust for private gain must be held accountable. Policies that underpin integrity and good governance should be a top priority. Integrity is essential for building institutions which are strong enough to resist corruption," noted Ambassador Vlahutin.
"Preventing and fighting corruption is a key issue within the Enlargement agenda and one of the main concerns to be addressed in Albania. It is now crucial to see convincing efforts, steady progress, as well as tangible and sustainable results in this area," reinforced Vassilis Maragos at the event's conclusion.
"The Assessment of the Anti-corruption Framework in Albania comes at a crucial and right moment while at the same time, substantial reforms are being undertaken such as those in the public administration, the public services and the judiciary," said Minister Çuçi. /ibna/
The European Union has consistently engaged with the Albanian authorities and provided guidance on vital reforms. In addition, it has supported Albania with over 150 million euros allocated to reforms on the Rule of Law.  The Anti-corruption Framework Assessment (ACFA) project totalled €300,000. /ibna/