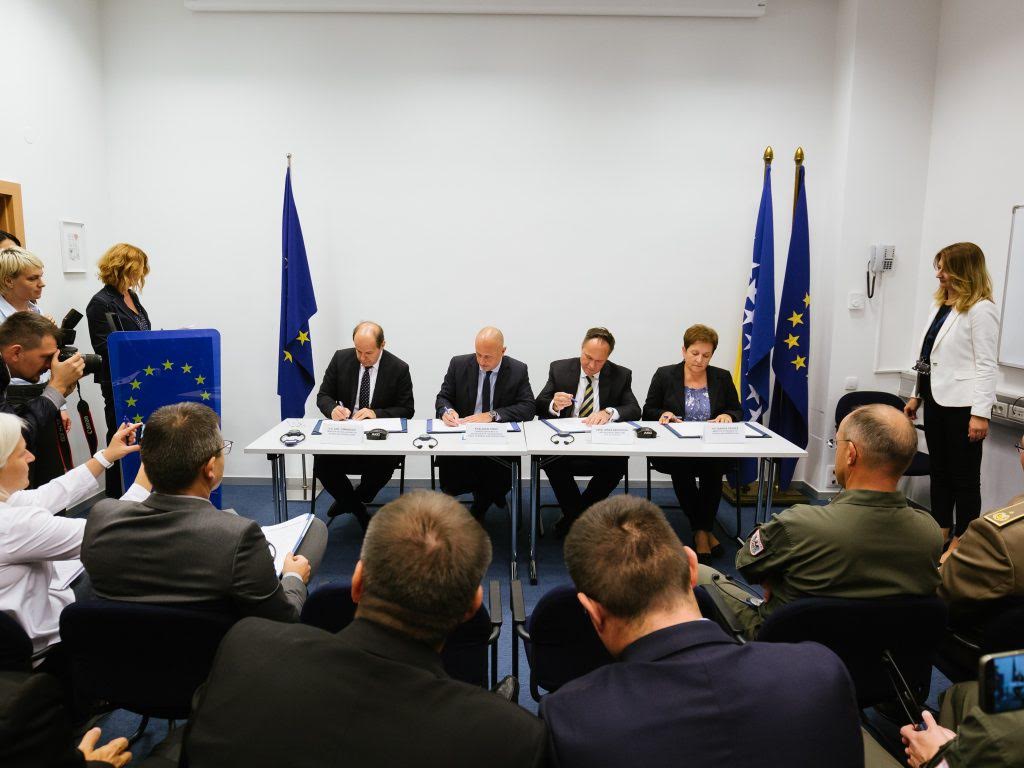 On Monday, the Chargé d'Affairs of the EU Delegation to BiH, Khaldoun Sinno, signed contracts for new mine-action projects in BiH, funded by the Instrument contributing to Stability and Peace (IcSP), reaching the total amount of EUR 1.1 million. The European Union is funding two additional projects to support mine clearance in BiH and enhance strong partnership among responsible institutions and key actors in this sector.
"These two new mine actions are long awaited and represent a turning point. Let us not underestimate the importance of mine action to the people of BiH, especially those in rural areas whose everyday life and movements are threatened", noted Sinno.
Through the EU Delegation press release it was announced that the European Union has provided more than EUR 46 million for the mine action programmes in Bosnia and Herzegovina since 1996. The two new projects will enable accurate mapping of suspected mine-contaminated areas, which is a key input to the design of more effective demining projects in BiH, as well as the development and implementation of an improved mine action strategy.
Sinno noted that "If well managed, the reassessment can lead to a comprehensive application of the Land Release methodology, successfully tested in previous EU-supported pilot projects in 2014, and could lead to a mine-free BiH by 2025, thus fulfilling the requirements of the Ottawa Convention."
He underlined that success can be guaranteed only through leadership, good governance, co-ordination and co-operation of the relevant institutions.
The first mine action project, co-signed by the Norwegian People's Aid, the BiH Ministry of Civil Affairs and the Ministry of Defence, supports a new country assessment of all remaining mine-suspected areas in BiH. The second contract, signed with UNDP, will support the creation of a modern Information System Web Platform, which will store updated information collected through the country assessment and enable efficient and effective planning of mine action.
UNDP Deputy Resident Representative in BiH, Sukhrob Khoshmukhamedov, stated that UNDP will provide important support to BHMAC in achieving positive change, resulting in the overall increased safety and security of BiH citizens.
"However, there is still hard work to be done and for this reason, the project was prepared in coordination and cooperation with BHMAC, building upon the extremely good partnership between the European Union, the Ministry of Civil Affairs, BHMAC and UNDP", Khoshmukhamedov stressed.
Minister of Civil Affairs, Adil Osmanović, emphasised that the project will provide a general assessment of mine-suspected territories in BiH, certainly contributing to faster removal of unexploded mines and explosives, while the establishment of a database is a completely different and better-organized approach to solving these problems.
Sasa Obradović, Acting Director of the BiH Mine Action Center, recalled that in the last three years a new demining method has been applied in BiH and that the state, together with the Geneva Center and other organisations, has embarked on a process of new demining, which is targeted and systematic. He added that in 1996, about 4,100 km2 was considered as suspected hazardous area in the country, while today we are talking about 1053 km2.
"These are mostly inaccessible areas, of which 64% are forests, which is what this project will help us to get into these areas with the help of more advanced equipment and determine whether they are really under mines or not", Obradović said.
The Norwegian People's Aid Regional Director for South East Europe, Sven Jonas Zachrisson, thanked the European Union for the grant awarded for these projects.
"Landmines pose a serious social, economic and environmental threat to Bosnia and Herzegovina", noted Zachrisson, adding that successful implementation of the projects will enable the successful realisation of the new BiH Mine Action Strategy.
The European Union is the largest donor supporting mine action in Bosnia and Herzegovina. Besides mine clearance, the EU has provided significant assistance to the country in helping landmine victims and returnees…. / IBNA