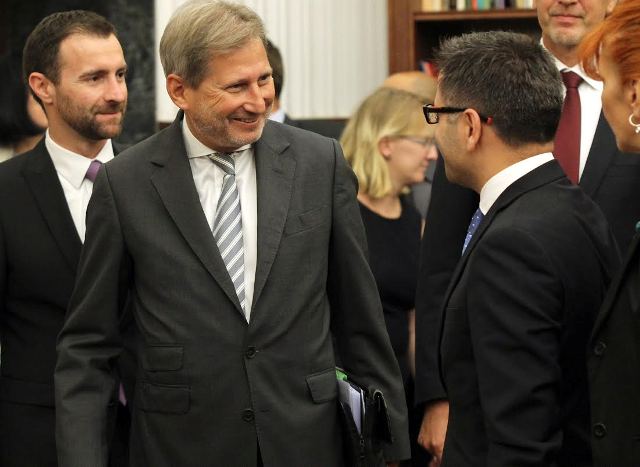 Skopje, 18 September 2015/Independent Balkan News Agency
By Naser Pajaziti
EU Enlargement Commissioner, Johannes Hahn arrived in Skopje today for a two day visit.
Hahn immediately started his agenda of meetings by offering Brussels' messages for political leaders in the country.
"The main scope of my visit today in Skopje is the Euro integration process of your country. The agreement that was reached is a positive step for your country", declared Euro commissioner Hahn in his address in front of the Parliamentary Committee for EU Integration.
Hahn underlined that political leaders showed that the state's interests come before their party interests.
"I'm happy about the return of the opposition in parliament and I would like to praise the approval of the Bill on Special Prosecution and the election of the head of this institution. The new Special Prosecutor will be backed by the European Union", EU commissioner Hahn declared.
Hahn has also expressed his regret about the political crisis, which according to him, has slowed down the level of dialogue with the EU.
EU commissioner Hahn advised sides to work for the rule of law, independence of the justice system, freedom of media and the reformation of public administration", Hahn declared.
Hahn also mentioned the Ohrid Agreement, which according to him, must be fulfilled and for this, there must be consolations in cooperation with political sides and international factor.
Deputy Prime Minister for European Integration, Fatmir Besimi declared that the country is engaged in the path of Euro Atlantic integration and that a difficult period was experienced due to the political crisis. "The country went through a serious crisis, but we showed that we have the capacity to cope with challenges, but we must also thank our friends from the international community", Besimi declared.
Upon his arrival in Skopje, Hahn met with representatives of NGOs. In the afternoon, Hahn met the leaders of VMRO-DPMNE, SDSM, BDI, PDSH in order to praise their contribution for the accord on the Special Prosecutor and their support for the implementation of the June 2 agreement.
Tomorrow, EU Enlargement Commissioner Johannes Hahn will travel to the southern border of the country to visit the temporary accommodation center for refugees in Gevgelija. /ibna/