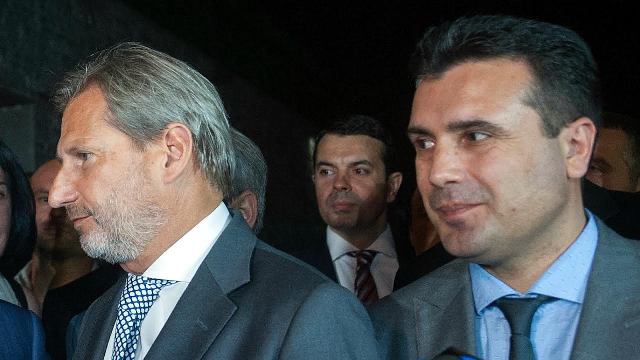 It's been almost two months that the country held general elections on 11 December, but no government has been formed yet. EU Enlargement Commissioner, Johannes Hahn is in Skopje in a fresh attempt to reach an agreement in order to solve this crisis.
Political parties cannot reach a deal for the creation of a majority with 61 seats in parliament. VMRO-DPMNE failed in this endeavor, as its leader, Nikola Gruevski couldn't manage to secure a majority, as he didn't accept the requests of the Albanian parties to make Albanian language an official language throughout the entire territory and other requests. Now, SDSM, which is the second largest party is in game to form the government. This party has won 49 seats and is holding talks with BDI (Democratic Union for Integration), but a deal hasn't been reached yet.
"Work groups are working and consults are taking place within both political sides. In the meeting with EU Commissioner Hahn, we are expecting to hear his opinions, but we will also express our points of view for the solution of the political situation and the creation of the new government", says Pece Mircevski of SDSM.
The vice chairman of BDI, Nevzat Bejta declared that this party is engaged in order for the new government to be formed as soon as possible. Bejta said that the new government must be formed in order to be a stable government.
VMRO-DPMNE insists that it should form the government, while in case of failure, the country must head to fresh elections. This party issued a statement saying that it will also express this stance to the EU commissioner.
According to university professor and former ambassador of FYROM in the NATO, Nano Ruzin, every country that aspires to become part of the European Union, must be content when a European diplomat comes for a visit.
"This time, we hope that Hahn will come up with favorable stances in order to solve the crisis in the Republic of Macedonia", says university professor Ruzin.
Hahn is staying in Skopje today in the framework of a regional conference for energy, which will see the participation of foreign ministers of six countries of Western Balkans. Hahn was a negotiator of the agreement reached in June 2015, which unblocked the political crisis and took the country to early elections. /balkaneu.com/