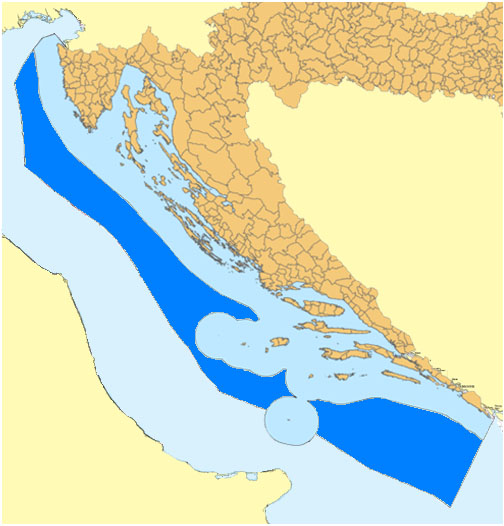 By Natasa Radic – Zagreb
Brussels presented the study, commissioned by the European Commission, which states that Croatia could increase its 29.3 million euro worth annual catch from the Adriatic Sea by establishing protected ecological and fishing zone. This immediately provoked a debate in Croatia. Some of the media immediately claimed that the EU during the negotiations forced Croatia to withdraw from the application of ZERP (Protected economic fishing zone) from the EU countries due to the pressure of Italy and Slovenia.
The study clearly has the disclaimer as to the conclusions of a study presented is the opinion  of authors – consultants. The statement of the European Commissioner Maria Damanaki, in charge for Fisheries, quoted by Vecernji list, it is said:
-There are huge unused opportunities in the Mediterranean, which could be used by establishing exclusive economic zones. Their declaration of the establishment remains the sovereign right of each maritime state – said Damanaki, adding that the EU's joint responsibility is to ensure conditions for a flourishing martitime economy.
The Commission spokesman Oliver Drewes also gave his comments, pointing out that the interpretation according to which the EC recommends Croatia full establishment of the EFPZ are incorrect. Drewes said:
-Commissioner presented a study that was made by external consultants. The study gives the European Commission and member states review of potential costs and benefits associated with the maritime zones, including the exclusive economic zone in the Mediterranean. It doees not give, therefore, the guidelines for policy and in no way affects the Croatian accession treaty.
Former Croatian MP Tonci Tadic said that the only difference is that in a country that is a member of the European Union, the excess fish catch is distributed by the European Commission, not the country itself.
– But Croatia has to determine what is the excess of the catch and what is the environmentally permissible weight of the catch in our exclusive economic zone. This eventually is being left to the neighbors through the European Commission and with a certain fee – said Tadic for newsportal Index.