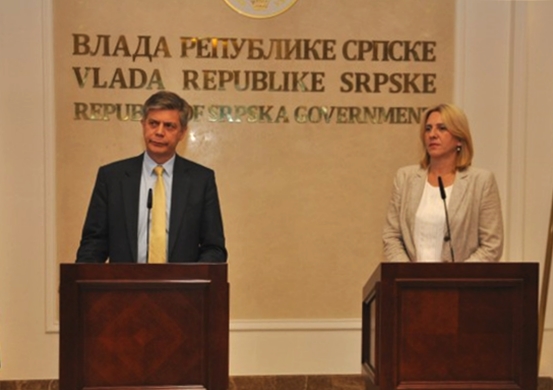 Head of the EU Delegation to BiH and EU Special Representative to BiH, Lars-Gunnar Wigemark, expressed on Thursday in Banja Luka his hope that, with the good political will of the relevant parties in BiH, an agreement on BiH accession to the Transport Community will be reached.
After meeting with RS Prime Minister, Zeljka Cvijanovic, Wigemark said that political will is necessary ali on the other reform measures, such as the adoption of Law on excise duties. The solution, as he said, must be found since there is a delay in reforms. Wigemark emphasized that BiH delegation in Trieste summit, a few days ago, sent a negative signal since there was no agreement between entities about accession to Transport Community.
"EU attitude is that local authorities have to solve reform issues by themselves.Otherwise they slow down the European process. It is unacceptable to us that any party, from the government or from the opposition, says that it is not possible to reach agreement and passively sit and wait for the resolution of the situation. The essence of applying for EU membership is responsible leadership and action", said Wigemark.
He added that EU is not defending any side, but invited local leaders to coordinate their attitudes, especially when it comes to BiH appearance on the international scene, because, at the very least, it is shameful that it does not exist. The EU, stressed Wigemark, insists on a common strategy of energy, environmental protection and employment, because it is an obligation on the EU path.
Head of EU Delegation to BiH said that from highest RS officials heard that RS does not dispute the substance of the contract on the Transport Community, but it is about the issues of coordinating certain positions and opinions within BiH.
Cvijanovic said that there is no problem in relations between Banja Luka and Brussels, because RS wants to be a part of that story, but added that all problems are BiH internal, related to different levels of government in BiH. She stressed that all levels of government and their priorities in both entities must be respected and in that manner the significant consensus has been already reached. It is inadmissible, she said, that this topic was discussed just a few days before the Trieste summit. The question, as she said, is why is the problem to take into account the RS government conclusion regarding the Transport Community.
"We had some fears, and demanded changes, if possible in some things that would eventually affect our railroad traffic. If it is not possible to change and if everyone in the region will adjust, we will do it and we will. That's not disputable. The rest is the issue of internal coordination, defining positions and presentation of attitudes", Cvijanovic said, adding that these issues will be resolved./IBNA