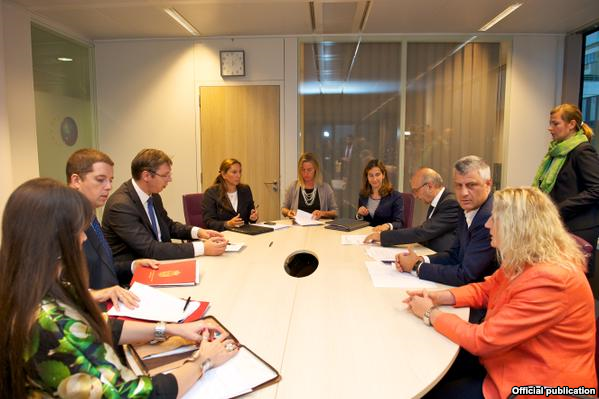 Dialogue for good neighboring relations is the only alternative for Pristina and Belgrade in the path toward European integration.
This is the appeal sent by senior officials in Brussels addressed to Kosovo's and Serbia's leadership following the recent tensions in the north of Kosovo.
High Representative of the European Union for Foreign Policy and Security, Federica Mogherini demands from "Kosovo and Serbia to avoid the escalation and restrain rhetoric".
"I call on the sides to avoid escalation and both sides must restrain themselves from acts and rhetoric. They must solve everything through dialogue. The steps that we have undertaken with Belgrade and Pristina last year are historical steps", Mogherini said.
Mogherini said that the European Union has managed to establish positive dialogue between Pristina and Belgrade and that it is convinced that both countries are committed to dialogue.
The same opinion was also shared by the EU Enlargement Commissioner, Johannes Hahn, who also calls on Kosovo and Serbia "not to risk what has been achieved through dialogue".
"I would ask the sides not to jeopardize what has been achieved so far in the dialogue between Belgrade and Pristina. We must not make steps backwards", Hahn said.
Expert on European affairs and the Balkan region, Hannes Swoboda says that no new conflict will be allowed in the Balkans.
"Clear instructions should be sent that NATO and the EU will put an end to any conflict. A clear message, including military intervention, could put a stop to these accusations between them. We will not allow any conflicts to happen in the Balkans".
Authorities in Pristina say that they are ready to continue dialogue between Kosovo and Serbia and to implement the agreements reached so far.
President of Kosovo, Hashim Thaci invites Serbia to engage in dialogue.
On 19 April 2019, Kosovo and Serbia reached an agreement for the normalization of relations. Dialogue is brokered by the EU head of diplomacy, Federica Mogherini. /balkaneu.com/