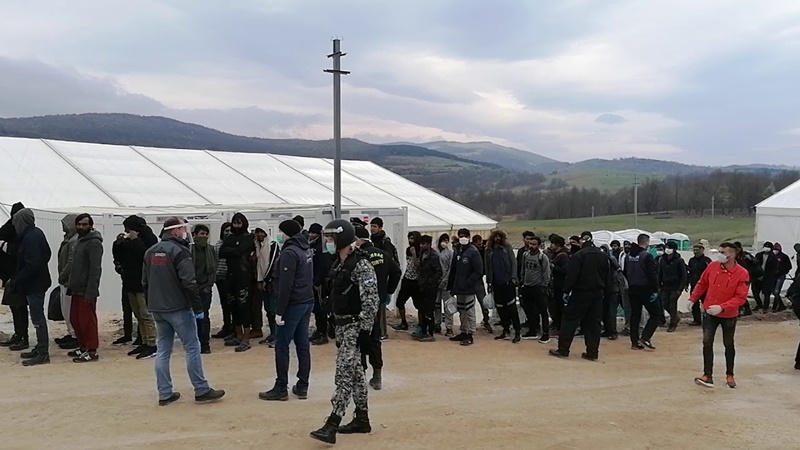 On Wednesday, the Ministry of Internal Affairs of Una-Sana Canton started moving migrants from the Bira camp to the Lipa camp in order to make better use of the space for their accommodation.
Incidents among migrants are becoming more frequent, and in the last one, which happened last night near Bihać, two migrants were killed while a large number of them were injured. Reportedly, groups of migrants from Afghanistan and Pakistan clashed. Residents of the surrounding places are in fear and do not leave their houses. There are more and more migrants and they are already forming "wild camps" in the forests on the mountain Plješevica, on the way to Croatia.
However, on Thursday, the European Union strongly condemned the transfer of migrants to, as they say, the already crowded Lipa camp.
"The EU strongly condemns the unacceptable actions undertaken on Wednesday, 30 September by the Una Sana Canton authorities, forcibly transferring refugees and migrants from the temporary reception centre "Bira" in Bihać outside the emergency facility in Lipa, which is already at full capacity. As a result, hundreds of persons are left in harsh weather conditions without shelter and access to basic assistance. These irresponsible actions put lives at risk", the EU Delegation to BiH says in a statement.
EU said that these unilateral actions amplify the humanitarian crisis on the ground, jeopardise COVID-19 protection measures, and severely worsen the overall security situation. "These actions are contrary to domestic legislation and the authority of competent State institutions. They raise very serious concerns with regard to the lack of respect of the rule of law and human rights".
The EU has consistently made it clear that the emergency facility in Lipa is only a temporary COVID-19 response measure and does not fulfil basic requirements needed to host refugees and migrants in current weather conditions or across winter. The facility in Lipa has never been designated as a reception centre by the Council of Ministers.
"The EU expects the competent Ministry of Security of Bosnia and Herzegovina to urgently take all necessary measures to prevent a humanitarian crisis from unfolding,  ensure shelter for all persons in need, including unaccompanied minors, facilitate humanitarian assistance and stop further evictions.  The EU also expects violations of the law to be duly investigated and the rule of law to be upheld", the press release reads.
The EU noted that it has provided considerable support to Bosnia and Herzegovina to manage migration and asylum. The EU urges Bosnia and Herzegovina  authorities to live up to their commitments. "The EU will continue to stand by all citizens of Bosnia and Herzegovina in coping with the challenging situation, which worsened due to recent actions of the authorities"./ibna